Affordable Dental Implant Special!
---
$2999
Implant + Abutment + Crown
THIS MONTH ONLY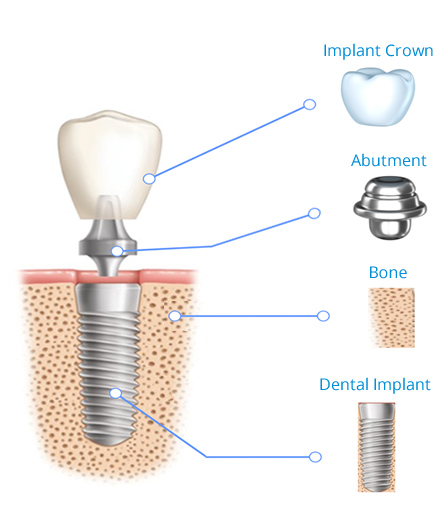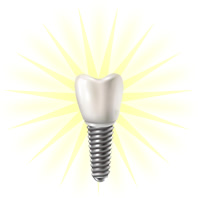 Why Choose Us?
Implant, Abutment and Crown placement all done by One Doctor, No Running around town to multiple Dentist.
IV Sedation Offered
Crowns Made IN-House
Dental Implant experience 20+ year history
All Done in 1 Day! *
*Case depends on certain factors, must how low bite, non accusal
Getting an implant is usually a transformative experience. One day you're noticably missing teeth and it may be uncomfortable to chew or smile…and the next you have beautiful teeth and have a better bite than before. Our goal is to give you that kind of wonderful experience every time!
Sedation Dentistry
*Patients specific needs vary and prices are only estimates. You will need a CT scan and exam by the dentist to determine exact prices
We realize the path you have to take in getting an implant. In addition to an investment and discomfort associated with the procedure, there's wading through a lot of misinformation beforehand in deciding what to do (implant, no implant, other solution) and who to use. We believe that part of our job is to make sure you understand all the options and expectations up front rather than being surprised at the end. We believe that you'll be happier with the experience when your dental work is great and you've understood and were confident with the entire process. So call or fill out the scheduling form to the right, and let's get you into the office to examine and discuss!
To learn more about dental implants, or to schedule an initial consultation to discuss your options, contact Pure Dental Health today.
Special Considerations In Dental Implant Planning
Placement of dental implants varies from patient to patient, and requires careful consideration of one's medical and dental history, including bone density and the location of nerves and sinuses.
Your CT Scan Ensures Pinpoint Accuracy
The initial consultation includes a CT scan and comprehensive exam which allows your dentist to determine location and size of implants, limiting anatomy, density of bone, and allows us to plan out the specifics of your case. When determining placement of multiple adjacent implants, a surgical guide is an important safety protocol, particularly when there is minimal bone to work with and when angulation and parallelism are critical.
Prior to implant surgery, a full arch impression and a full arch CT are also needed. Moreover, whether tooth extraction is required, or if a patient lacks adequate bone to support an implant, there are options available.
In the case of tooth extraction, it's important to understand that an extraction causes a break in the bone that will allow soft tissue to grow in. To protect against gum tissue growing into the bone-graft, a bone grafting socket procedure involves placing bone-graft material into the socket. Covering the bone-graft is a collagen membrane, which protects the area from the patient's tongue and saliva. Finally, sutures are used to secure everything in place. For patients that are hoping to benefit from dental implants, but require the removal of a tooth first, the Bone Grafting Socket preserves the bone needed to support a dental implant.
Other considerations for building up a patient's bone include ridge grafting and sinus lift grafting. Again, when a tooth is removed or extracted, gum tissue undergoes "resorption." In effect, the body absorbs the bony material and disperses it into other areas of the body for use. Yet, this becomes a problem for future dental implants, not to mention aesthetics.
This is why tooth extraction is often coupled with ridge preservation when planning for dental implants. Essentially, ridge grafting involves recreating the original contour of the gums and jaw. In turn, when bone loss is beneath the sinus cavity, for instance, the sinus membrane must be lifted to make room for a bone graft.
Pure Dental Health offers sedation for ultimate patient comfort and experience. Sedation is a great option for people who have dental anxiety, fear, or have a longer procedure. Your comfort is of the utmost importance to us and we go to great lengths to ensure that we take great care of you and you are comfortable throughout the process.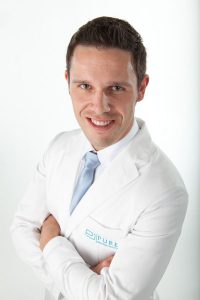 Dr. Justin Scott believes it is his calling to help people keep their teeth for a lifetime and restore beauty and function to those who have lost their smiles. He is dedicated to providing gentle care while using the most advanced dental procedures and technology. He feels strongly about providing the best value to the patient and exceeding their expectations.
Earned his undergraduate degree in Biomedical Science at University of South Alabama graduating Magna Cum Laude.
Attended and graduated Dental School at the University of Alabama in Birmingham where he had additional elective training in implant surgery and cosmetic dentistry.
He has completed courses for sedation dentistry from DOCS education and advanced residency from the University of Alabama in IV sedation dentistry.
Received extensive advanced training in cosmetic dentistry accredited by the Academy of General Dentistry.
Dr. Scott is a recognized provider of 6 Month Braces and carries advanced training in adult orthodontics.
Received hundreds of hours of continuing education on advanced dental studies in the areas of oral surgery, implant dentistry, complex rehabilitation, esthetics, orthodontics, endodontics, periodontics, operative dentistry, prosthetics, and practice management.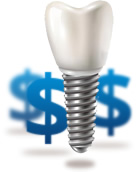 How Much
Do Dental Implants Cost?
Implant + Abutment + Crowns: $2999 (Includes All Porcelain Abutment and Crown)
Tooth Extractions: $340 Per Area
Bone Grafting Socket: $799 Per Area (*4 month healing time)
CT Scan: $125 Per Arch (*requirement for all implant cases)
Surgical Guide: $350 Per Arch
Ridge Grafting: $1200 Per Area
Sinus Lift Grafting: $1200 per Area
*We Do Not Accept Medicaid or Medicare
We believe that once you come in to meet and discuss your dental needs, learn about the Pure Dental process, and understand the pricing and options…you'll make the decision to go with us!
Our doctors have extensive education and experience in implant placement, restoration, and recovery.
We handle all phases of the implant process in-house, without the need to refer you to another office.
We provide a treatment plan consistent with your personal dental health.
Our doctors and dental care team have been recognized for providing exceptional patient care and communication before, during and after treatment.
You can trust Pure Dental for superior, patient-centered care.
Schedule Your Appointment Online