Why Choose Pure Dental?
Simply put, we know what you're going through, and we want to help!
Our doctors have extensive education and experience in wisdom teeth extraction and recovery.
We offer the latest in sedation therapy.
We provide a treatment plan consistent with your personal dental health.
Our doctors and dental care team have been recognized for providing exceptional patient care and communication before, during and after treatment. We believe that in addition to good service, patients have a good understanding of the options, recovery, and care.
You can trust Pure Dental for superior, patient-centered care.
Buckhead Invisalign
Enjoy the confidence that comes with a straight, healthy smile with the help of Invisalign. Our experienced team at Pure Dental Health is here to help you achieve your best smile with our advanced dental services, including the popular Invisalign brand of clear aligners. You can have the smile you always wanted without the need for uncomfortable, embarrassing metal braces. It all starts by coming to a complimentary consultations at our convenient and comfortable location in Buckhead.
What makes Invisalign orthodontics different from metal braces?
Invisalign has changed the world of orthodontics. Metal braces were once the only option for straightening teeth for both health and aesthetic purposes. Many teens and adults spent years in metal brackets and wires, needing constant adjustments and visits to their orthodontist or dentist. Certain foods were off limit due to the difficulty in removing them from between the brackets and wires; plus, oral hygiene could be a challenge. The experience was uncomfortable and inconvenient, and the mouth full of metal could be embarrassing, especially for adults. Invisalign can be worn to work and social events. Since they are clear you won't be able to see them in photos and most people dont even notice you are wearing them. You can take the trays in and out so you can eat whatever you want during treatment including nuts, gum, and other foods off limites with traditional braces.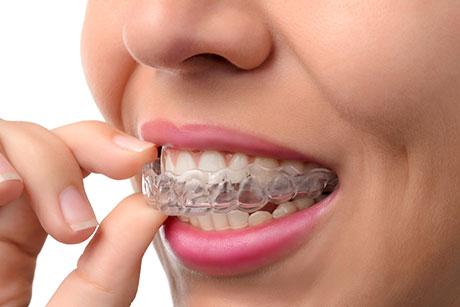 How do they straighten my teeth?

With Invisalign, many of these issues are in the past. No brackets or wires that need adjustments or bands that need replacement. These clear plastic aligners fit comfortably over your teeth and gently begin moving them toward your perfect smile. There are less trips to our office in Buckhead for our patients with Invisalign orthodontics than traditional braces. New aligners are issued every few weeks with quick assessments of the progress. The treatment is much less time consuming, but that is just the beginning of the benefits.

What are the benefits of Invisalign for adults?

What makes Invisalign so different is the discrete and comfortable way that these aligners shift your teeth into place. Using BPA-free clear plastic aligners, your teeth are moved step-by-step toward your ideal smile. These aligners are almost invisible; most people will not even notice that you are wearing them. This is great for professionals and young adults that do not want the distraction of metal on their teeth for up to two or three years.

Can I really eat whatever I want with Invisalign?

The other benefit of Invisalign is that these aligners are removable. This means you can take them off when you want to enjoy your meals, regardless of the type of food. Sticky, gooey or chewy – no foods are off-limits. Just enjoy your food than brush, floss and put your aligners back in again. You can take your aligners out whenever you eat or perform your oral hygiene. Just make sure to wear them at least 20 hours a day to achieve the results you desire.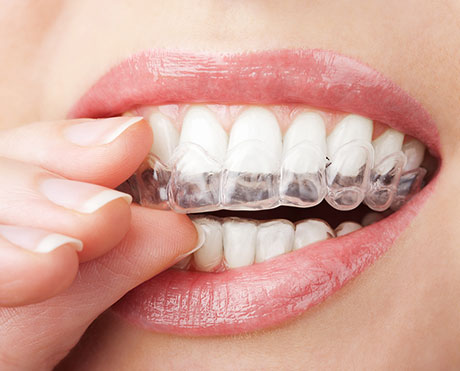 Is Invisalign right for me?

If you have been considering orthodontics to straighten your smile, Invisalign may be an option for you. Invisalign can straighten crooked teeth, close gaps and make many of the same improvements to your smile as traditional braces. They are comfortable and easy to use, with less trips to visit us, making them convenient for those with a busy lifestyle.

Why choose Pure Dental for my Invisalign dentist?

At Pure Dental Health, we want to offer the best dental treatments for our patients. Our goal is to ensure that our patients have access to the latest dental treatments for optimal oral health and beautiful smiles. We offer Invisalign and many other dental options at our office in Buckhead to give our patients as many choices as possible to fit their lifestyle and budget. You will enjoy the ambiance when you visit our office with many amenities to make you feel at home, including an internet and beverage bar, valet parking and much more. Contact Pure Dental Health today to schedule your consultation with our experienced dental team to learn more about Invisalign and our other orthodontic and dental treatments. We accept many insurance plans and have financing options to fit almost anyone's budget.
Our Doctors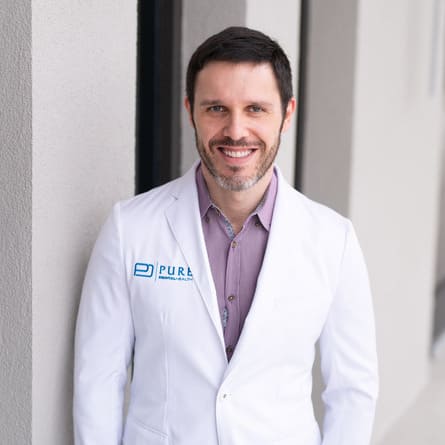 IV Sedation Certified