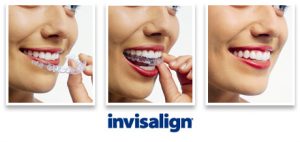 Are you tired of having crooked teeth? Have you always been self-conscious of your smile and want a cosmetic dental treatment to help? If you are ready to make a change in your appearance, Invisalign may be just what you are looking for. If you are looking for a reputable Invisalign dentist in Atlanta, look no further than Pure Dental Health. Using a modern approach to straighten your teeth, Invisalign helps you say goodbye to metal braces and hello to new options. There is no need to go to an orthodontist; you can be fitted for Invisalign right here at Pure Dental Health.

Does Invisalign just make cosmetic changes?

A perfect smile is more than just good looks. Properly aligned teeth are better for your oral health. Pure Dental Health wants to be your Atlanta Invisalign dentist. Let us help you determine if Invisalign is right for you.

Why are they called clear braces?

You may know Invisalign as the clear braces. The Invisalign system uses custom made, clear plastic aligners that fit over your teeth. They look a lot like whitening trays. Recognized by both dentists and orthodontists alike, Invisalign is a viable option for many patients seeking straighter teeth. These clear braces slowly realign your teeth and bite over a period of time. Your aligners will be changed approximately every two weeks, to carefully adjust your teeth with ease and comfort. Each time a new aligner tray is custom fitted to your mouth, slight adjustments are being made to shift and straighten your smile.

Can Invisalign still straighten my teeth if I'm an adult?

If you did not get traditional metal braces as a teen Invisalign clear braces may work for you. Your dentist will need to make that determination. The best part of wearing Invisalign adult invisible braces is that most people won't even realize you are straightening your teeth!

Is Invisalign right for changing my smile?

These clear plastic aligners can fix most issues that are treated with metal braces, without the drawbacks associated with those devices. The aligners are made from BPA-free plastic, so they are safe for everyday wear. They are customized to fit your teeth, making them comfortable as you go about your regular routine. Your doctor will map out a sequence for your teeth to move on directed by a series of custom made aligners.
Aside from being virtually invisible, there are many benefits to having Invisalign. These include shorter doctor visits due to the absence of metal or wiring, the fact that no wiring is involved which usually irritates the mouth, you can conveniently remove and replace them to eat, drink, brush, and floss, and best of all you can view a virtual representation of the results and treatment plan before you start the process.
Fulton Invisalign Dentist
Everyone deserves a smile that they are happy to flash to the world. Unfortunately, when your teeth are crooked, uneven or gapped, it can detract from the beauty of your smile. Orthodontics can change the aesthetic appeal of your smile and also improve your oral health. At Pure Health Dental in Fulton, we offer a discreet option to change your crooked or gapped smile with Invisalign clear aligners.
We also serve the following areas for their dental or orthodontic needs:
Is Invisalign affordable?

Our team at Pure Dental Health is here to help you maintain your oral health and achieve the beautiful smile you deserve. Call today to ask about our Invisalign orthodontics and to schedule your consultation. We accept many popular dental plans and offer financing for those needing payment options for any treatments that are not covered by insurance. We make it simple and affordable to achieve your best smile in a pleasing, relaxed atmosphere.

What should I expect while having Invisalign?

After your doctor has set the direction for tooth repositioning, you will be given custom aligners that reflect this sequence. Each different aligner will contribute to moving your teeth with slight adjustments, usually lasting 2 weeks. The total number of alignment intervals is dependent on how your teeth are at the initial exam.
The average case lasts around 12 months. Bu this really depends on the conditions for your case at the time of the initial exam. The doctor maps out the aligner intervals sequence based on this information, although the "route" can take a short cut to being straight if circumstances allow during the process.
Contact our office today to schedule a consultation at Pure Dental Health to see if Invisalign is an option for you.