What is All-on-4 Implants?
Imagine having your smile restored in one day, giving you back the freedom to laugh, smile and eat the way you did when you had all your natural teeth. All-on-4 implants are the solution for restoring your smile. Pure Dental Health is proud to offer the latest solutions in implant dentistry, which most certainly include the All-on-4 technology. The advantages of All-on-4 implants over removable dentures include: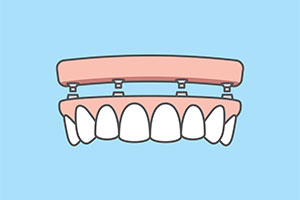 The All-on-4 overdenture system uses just four dental implants to secure a full arch of replacement teeth.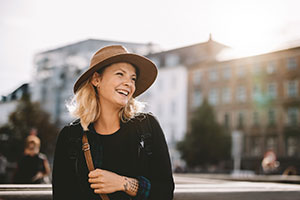 The implants require less bone structure than traditional implants, which means patients can avoid costly bone grafting procedures and still qualify for this innovative, implant-supported denture.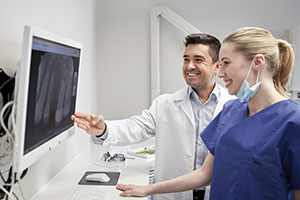 Pure Dental Health uses the latest dental technology and imaging to create customized prosthetics to create a personalized smile.
We can design a provisional denture or bridge for you to wear and use the same day as your implant surgery with our cutting-edge digital technology.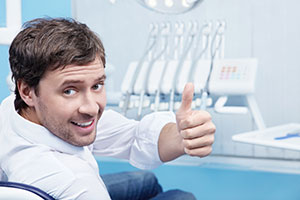 Using only four implants is a cost-effective option to create a stable, long-lasting new smile that you will love.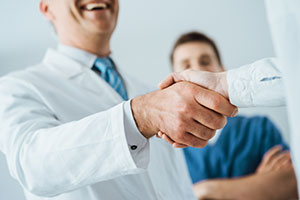 You can trust the experienced restoration dentists at Pure Dental Health to create a gorgeous, state-of-the-art smile with All-on-4 implants.
What to Expect
If you are ready to explore the advantages of All-on-4 implants for a new smile, contact us at Pure Dental Health. We can begin the journey to restoring your beautiful smile. Here is what to expect:
First, we need to meet with you and perform an exam with advanced imaging. Once we evaluate your oral health, our restorative dentist will discuss the options available, including All-on-4 implants.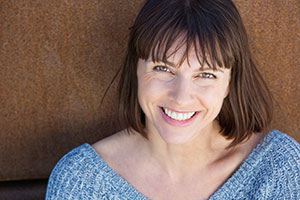 If you decide All-on-4 implants are right for you, we can begin designing your customized smile with our 3D imaging technology.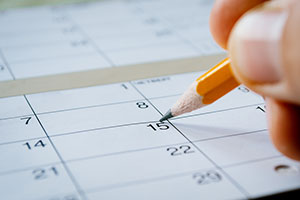 We will schedule your surgery to receive your implants and new smile, and our team will go over what to expect the day of surgery.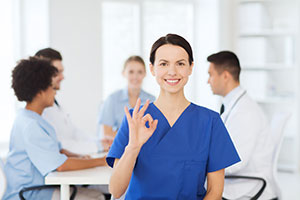 Our restorative dentists will insert your new dental implants and attach your new temporary smile in place. You will walk out the same day with a functional, beautiful smile.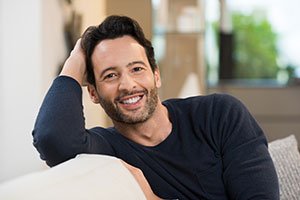 Once your implants have healed, we will secure your permanent overdentures in place for a long-lasting smile you will love.
If you would like to learn more about the advantages of All-on-4 implants, please contact Pure Dental Health today. We look forward to helping you regain a complete and confident smile at every stage of life.
What are the benefits?
There are many reasons patients are attracted to All-on-4 denture implants. Some are simply lured by the fact that All-on-4 implants require less procedure time and less recovery than alternative treatments in implant dentistry. Furthermore, they are more cost-effective, since there are fewer implants to place, no bone grafting is needed and fewer office visits are necessary. There are many reasons to choose All-on-4 implants from Pure Dental Health for your new smile.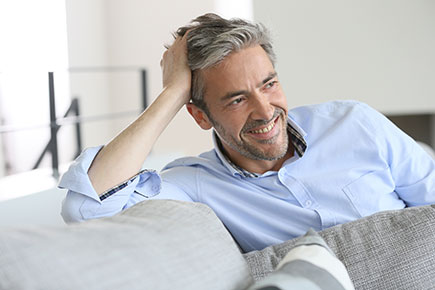 Your new smile will stay in place when you eat, laugh, sneeze or talk. The strategic placement of the four implants secures your prosthetic teeth in place with no need for adhesive or other unpleasant effects of removable dentures. Patients can enjoy full denture stabilization, which means you can eat the foods you love, laugh with confidence and care for your All-on-4 implants just like natural teeth.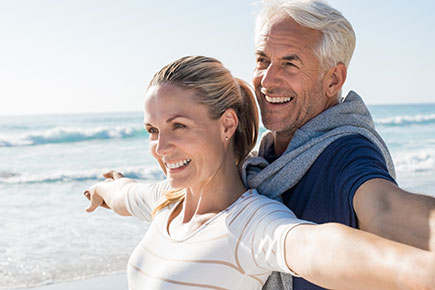 Your new smile will look and function like natural teeth, and All-on-4 implants are a great investment in your health and appearance. Our patients have excellent results with All-on-4 implants – many people keep their new smile for the rest of their life. Plus, implant-supported dentures offer bone preservation through the proper stimulation of your jawbone by the implant post when you chew. This helps patients avoid premature facial aging by retaining a youthful fullness and contour in their lower face.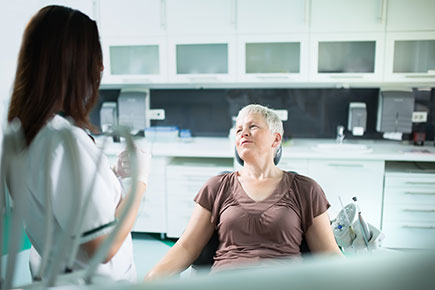 As with all our dental services, you can expect exceptional, personalized care while we restore your new smile. Our restorative dentists will answer all your questions and involve you every step of the way while we create your All-on-4 implants. We are committed to ensuring you get the new smile you deserve in the most comfortable way possible.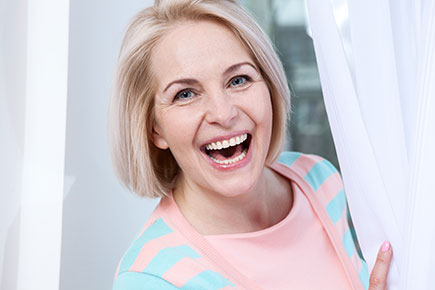 You don't need to wait for weeks or months after your implant surgery to enjoy your new smile. Most patients can have their provisional smile created the same day as their surgery for fast, convenient service. Using precise imaging, cutting-edge technology and minimally invasive oral surgery, patients can even get their All-on-4 implants in a single day!
Smile gallery
Each dental patient is unique and actual treatment results may vary.
These cases are examples of actual cosmetic cases completed by Dr. Justin Scott or other top cosmetic dentists and are shown for educational purposes.
No Insurance? No Worries.
If your insurance provider does not cover your dental care or if you have no dental insurance, we offer flexible payment plans, both in-house as well as through partners. We do our best to work with patients and will come up with a reasonable payment plan that will work for you.
Dr. Justin Scott
Owner, DMD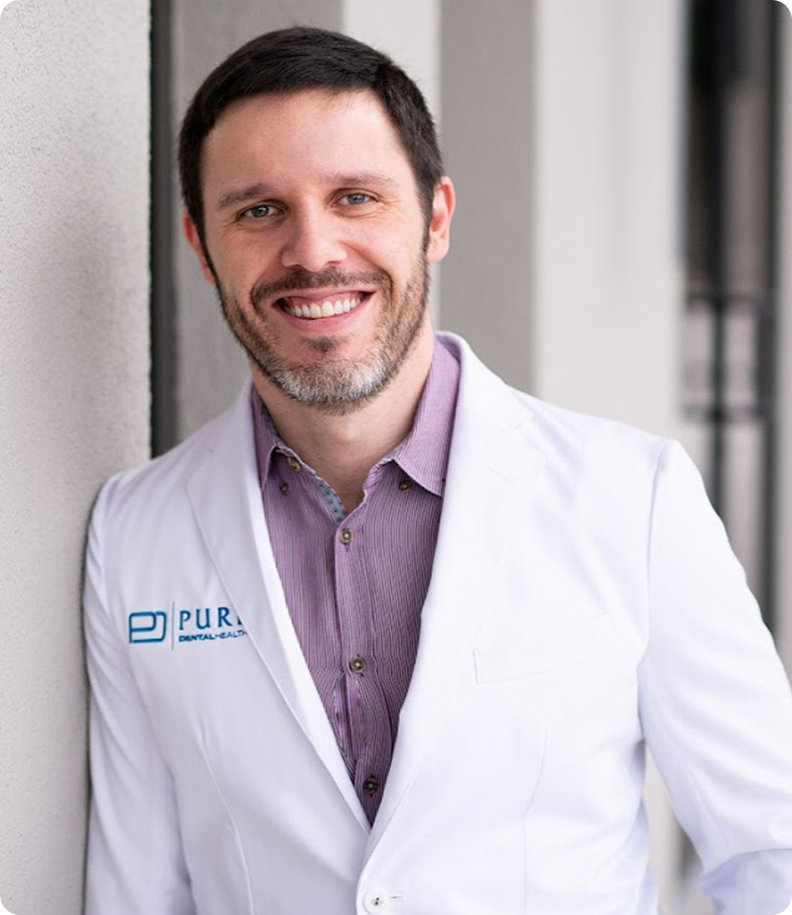 Full Arch Masters Program Alumni | IV Sedation Dentistry Certified | Completion of the Heartland Dental Care Doctor Mastery Program | DMD, University of Alabama School of Dentistry | Magna Cum Laude Graduate, University of South Alabama
"Welcome to Pure Dental Health, where we pair our legacy of excellence in dental care with constant innovation, offering you unrivaled dental solutions." Dr Justin Scott
A highly respected dentist, international speaker, and authority on dental implants. Dr. Scott's fervor for dentistry was kindled under the mentorship of his father, Dr. Byron Scott, an innovator in dental implant technologies. His dental journey traces back to his early years in his father's practice in 1997 and culminates with a Magna Cum Laude graduation from the University of South Alabama.
With a dedication to providing patient-centric care, he sought advanced training at the University of Alabama School of Dentistry, where he specialized in periodontics, oral surgery, endodontics, and orthodontics. His commitment to advancing dental care led him to earn an IV Sedation Dentistry certification, a feat accomplished by only 3% of US dentists.
To ensure he remained at the cutting edge of dental technology, he completed the rigorous Heartland Dental Care Doctor Mastery Program under the Pacific Aesthetic Continuum. This program enhanced his abilities to manage complex cases, often needing multiple specialists, right here under one roof at Pure Dental Health.
Specializing in dental implants, Dr. Scott undertook extensive training with Zirkonzahn in Italy, mastering the art of manufacturing and milling top-tier materials. This expertise empowered our practice to establish an in-house lab, positioning Pure Dental Health as a unique resource for comprehensive dental care.
As an alumnus of the Full Arch Masters Program led by Dr. Ryan Dunlop, and the advanced program under Dr. Bernardo De Sousa (a student of the original all-on-4 creator, Dr. Paulo Malo), he offers our patients the benefits of state-of-the-art dental implant techniques.
Under the mentorship of Dr. Vishy Broumand, a leading expert in complex implant procedures that involve the cheekbones (also known as zygomatic implants), and through additional courses with Dr. Ramsey Amin and Dr. Dan Holtzclaw, Dr. Scott mastered a range of advanced techniques that allow us to provide solutions even in challenging cases where bone loss is significant.
Schedule Your Appointment
Testimonials
Jillian M.

Just moved to ATL recently and had been looking for a new dentist near my new neighborhood. Had searched Google for offices nearby with good reviews, and Pure Dental Health popped up. Super impressed with the staff here, especially Trish who gave me a great cleaning. Dr. Scott also spent ample time with me which was impressive! All and all, a great first experience, so I give it 5 stars - and would recommend, will also be returning every 6 months!
Diamond O.

I've been going to Pure Dental Health for several years now. I absolutely love the atmosphere and convenience. The team always communicates appointment reminders via email and text. The appointments are timely and relaxing. Not to mention they offer late evening appointment times as late as 6:30 pm! Would definitely recommend Pure Dental Health!
Armon S.

Pure Dental Health staff and doctors were very nice. I had four impacted wisdom I needed extracted and was dreading this day but the doctors helped me calm down a lot and the process was smooth and easy now I just have to focus on recovery! Thank you all!
Nina L.

I absolutely loved every aspect of my appointment, from the receptionist to the dental assistants and doctor. Very knowledgeable. And everyone went out tog there way to make sure, I was comfortable and knew every aspect of what was happening. What was needed and also very knowledgeable on what I needed to do once I left the office until follow up. Both Of the young ladies named Taylor and Cameron were extremely nice. Ms.Don Dr.Scott Dr.Eagle were also absolutely amazing. Can't wait until my next visit with this wonderful team.
Ginneriah

I have been an incredibly satisfied patient of Pure Dental since 2012. The staff is always inviting and friendly, and Dr. Scott has is very gentle, concerned, and personable. Regardless of the type of work I've had done (from fillings to a root canal), I've never left his office in pain. I look forward to coming to this office where my oral health is top priority.
Jennifer F.

I went in as a new patient and was able to get an appointment very quickly. The staff was extremely friendly and informative. I went in with some questions about issues and products I should be using and they were very helpful with providing recommendations. The best thing for me is their business hours. I work Monday thru Friday and it can be difficult to get appointments before or after work. The office opens early enough that I can have everything done with time to spare! I would definitely recommend them.
Chelsea H.

Everyone is always incredibly nice at Pure Dental! Today was my first day seeing Donetta and she is one of the most informative dental hygenist I have ever had. She really goes out of her way to make you feel comfortable and welcome. Thanks to Dr. Scott and the entire team!
Jeff S.

Dr. Scott did a very good job and was very understanding. Janelle is the best. I have a panic disorder and she handled that as if she's been doing it all along. Janelle, us freaky patients appreciate you more than you know. Two hour drive for the dentist. Worth it every time.
Zack B.

My wife came in for a wisdom tooth extraction, we could not have been happier at how Dr. Scott and Janelle handled it. They put our minds at ease, and made both of us feel confident and safe. The post care instructions were very thorough. Janelle walked us through each step of what would happen during and after the surgery. This is easily the best dental practice I have ever been to.
Tanisha C.

I love Pure Dental Health and my dentist Dr.Aaron and her assistant Jason are amazing and the work they have done on my teeth. Dr.Aaron took her time on my crowns and made sure they were just perfect for me. Now I am confident with a new smile I love!
About Us Pure Dental Health
A globally recognized dental practice where an enduring legacy of excellence harmoniously converges with innovative breakthroughs to offer unrivaled dental solutions.
At Pure Dental Health, we are more than just a dental practice, we're a community. From full mouth and All-on-X dental implant procedures to rectifying botched full arch cases, we provide complete and comprehensive care. We are the 'obvious choice' and an all-inclusive solution for all your dental needs.