Atlanta Six Month Smiles
Is it finally time to achieve a picture perfect grin? Have you decided that you no longer want to live with that crooked smile or the gaps in your teeth? At Pure Dental Health, Dr. Justin Scott and our dental team offer an outstanding cosmetic dentistry option for adult braces in Atlanta. We are proud to offer our patients Six Month Smiles. Six Month braces are a cosmetic dentistry procedure that offers an aesthetically straightened look and straighter smile for most patients in just six months.
What are Six Month Smiles Adult Braces?
With traditional braces, treatment can last between two and three years for results. In the meantime, you must live with the metal brackets and wires on your teeth that can be embarrassing, especially for adults. Metal braces also require constant adjustments and visits to the dentist or orthodontist during the long treatment period. This can be a hassle for a busy lifestyle. With Six Month Smiles, you can get the straight smile you want in a fraction of the time of traditional braces, making it more convenient for busy adults.
Will I have a mouth full of metal for six months?
Six Month Smiles are braces for adults, but they are designed to be discrete. The clear brackets are cleverly blended into your smile and the tooth-colored wires are difficult to notice. This is a great option for adults that don't want to advertise their choice to straighten their teeth every time they smile. The discrete design is a desirable attribute that many adults prefer.
How do they straighten teeth so quickly?
The Six Month Smiles system works differently than traditional braces by focusing major changes on the front teeth with limited changes to the back teeth. The primary purpose of six month braces is to cosmetically straighten teeth and close gaps. The braces use low force technology to shift the front teeth that show when you smile. Since your bite alignment is not being changed, the transformation can happen in as little as six months. Crooked teeth and small gaps can disappear, and you will have a lovely set of teeth that you will be proud to show the world.
Who Can Use This System?
Six Month Braces (Six Month Smiles) are designed for those who have their permanent teeth, usually adults or teens who are at least sixteen years of age. This system can be used by most adults that are looking to permanently change the way their smile looks in an accelerated amount of time. Since the treatment is shorter, this system is often more affordable than traditional braces or clear aligners, making it fit into almost any budget.
Will my dental insurance cover Six Month Smiles?
At Pure Dental Health, we care about the health and beauty of your smile. Our friendly staff is here to help you with determining what your dental insurance will cover for any of your dental treatments, including Six Month Smiles. We also offer in-house financing options for those without insurance or for treatments that are not covered under your policy.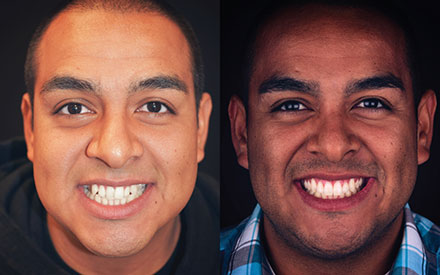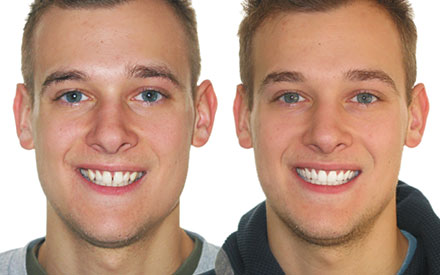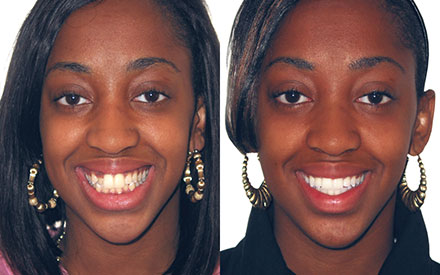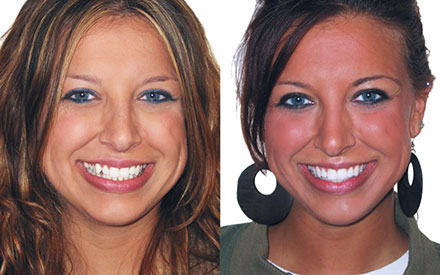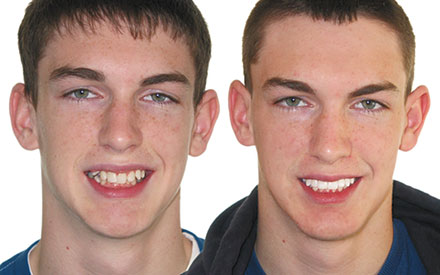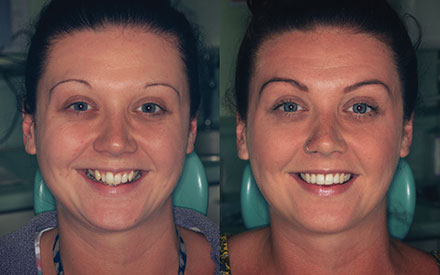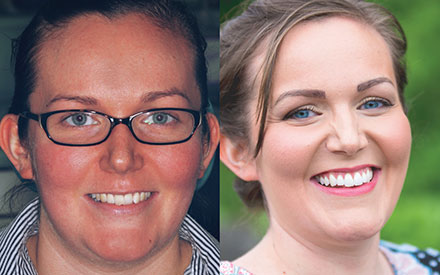 Each dental patient is unique and actual treatment results may vary.

 These cases are examples of actual cosmetic cases completed by Dr. Justin Scott or other top cosmetic dentists and are shown for educational purposes.
Fulton Six Month Smile Dentist serves all surrounding communities
Dr. Scott and our entire team at Pure Dental Health welcome the chance to help you get your perfect smile. We pride ourselves in providing one of the most relaxed and comfortable dental offices in the Atlanta and Fulton area with a wide variety of services. Come experience the excellent services that we offer our patients, including Six Month Smiles. Our office includes several amenities designed to make you feel at ease while we work on your smile.
Pure Dental Health offers our dental services to the following communities around Atlanta:
Dr. Scott has completed more Six Month Braces cases than any other dentist in Georgia. He is a Six Month Braces mentor to other dentists who use this system because he has completed many cases and in an expert at complex and difficult cases. His experience helps him to complete simple cases in as little time as possible.
We make it easy and simple to get the dental care you need and the smile you want, all in a comfortable, inviting atmosphere. Contact Pure Dental Health today for your appointment and find out why so many families in the Atlanta and Fulton area choose us to care for their smiles.
What is the difference between Six Month Smiles and Invisalign?
Six Month Braces and Invisalign are both good options available on the market today for adults who desire straighter, more attractive teeth and do not want to wear metal braces for 2+ years. Six Month Braces are clear brackets that are attached to the teeth– use of elastic systems allows for complex tooth movement. Six Month Braces can correct more complex cases than the aligner system– so if you have been told you are not a candidate for Invisalign, you still might be eligible for six month braces. Invisalign treatment ranges from 5-18 months. Both options offer a more aesthetically pleasing alternative to traditional braces as neither of these systems involves the unsightly metal used in traditional braces.
Do I need to have all my dental work done before I get braces?
While we do recommended that patients get their dental work done as soon as problems arise, it is not necessary to have all your fillings, crowns, root canals, and wisdom teeth removed before having braces. We will say that dental problems only become more serious and costly with time so we recommend prevention and early treatment to avoid more complicated issues and maintain overall body health!
Will I have to wear a retainer?
Yes, regardless of the type of braces you have, having some form of retainer is necessary to ensure your teeth remain straight. In fact, a lot of cases we see for adult braces are patients who previously had braces and did not wear their retainer and now their teeth are crooked or gapped again.
What are my options for retainers?
There are a few types of dental retainers. Bonded retainers, essix retainers, and hawley retainers. Most people get bonded retainers because they are semi-permately bonded to the back of the teeth and do not require the patient to remember to wear the retainer and cannot be lost. Some patients prefer to have essix retainers which are clear retainers (similar to Invisalign trays) that come in and out of the mouth. A hawley retainer also comes in and out, but has a metal bar in the front of the teeth and a plastic material on the inside roof of the mouth.
Dr. Scott is a Six Month Smiles mentor.
This means that he has completed more Six Month Smiles cases than any other dentist in Georgia and teaches other dentists how to do this procedure more efficiently and effectively.
Even if you have been told you need 2 years of braces you may qualify for 6 month adult braces. Book your complementary consultation to find out if you are a candidate for straight teeth in just 6 months!
Schedule a FREE consultation today: 678-671-5442
Dr. Scott discusses the most common questions patients ask him about Six Month Smiles.