Affordable Dental Implant Special!
---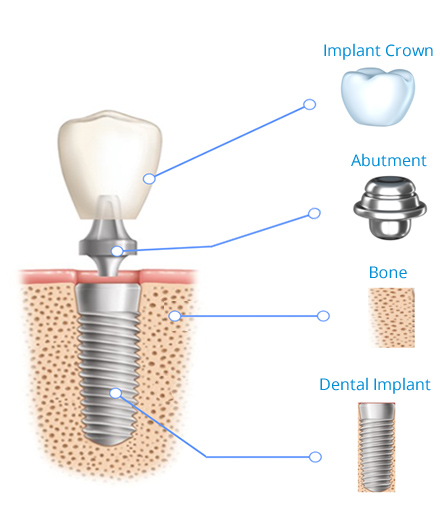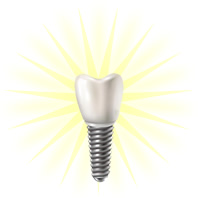 Why Choose Us?
Implant, Abutment and Crown placement all done by One Doctor, No Running around town to multiple Dentist.
IV Sedation Offered
Dental Implant experience 20+ year history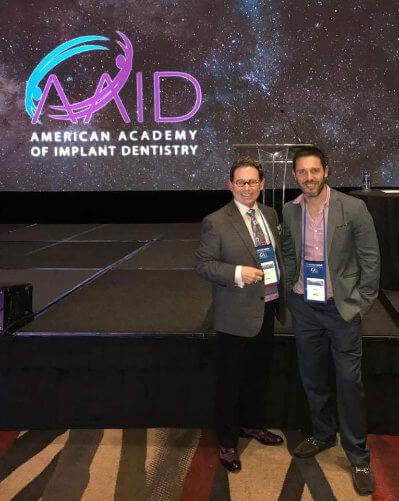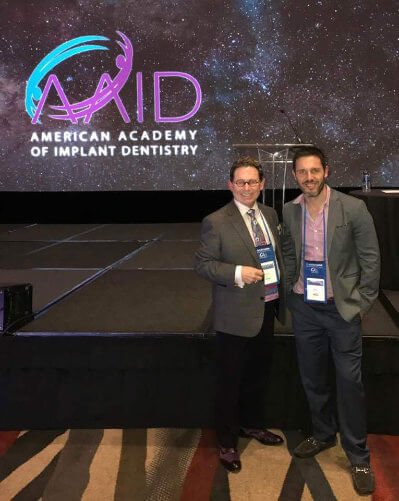 Roswell Dental Implants
Get a beautiful, complete smile again with dental implants from Pure Dental Health. We serve patients coming from Roswell and the surrounding communities at our office in Buckhead. You will enjoy the best care in a comfortable, relaxing setting. From our excellent dental care services to our comfort amenities such as valet parking and internet bar, we are your source for professional smile restoration.
What is a dental implant?

Simply put, a dental implant is a surgically placed artificial tooth. Unlike dental bridges or dentures, a dental implant is adhered into the jaw bone for a permanent, fixed tooth. A titanium post is implanted into the jaw bone, then it is covered with a beautiful dental crown. The result is a permanent new dental implant that looks identical to a natural tooth with excellent functionality.

What are some other benefits of dental implants?

Beyond a natural appearing replacement for missing teeth that is functional, dental implants also have other benefits. The implant can stop other teeth from shifting into the space left from missing teeth. The implant also spurs bone growth in the jaw like a natural tooth. This is important to reduce bone loss that can change your facial appearance and affect your oral health.

Are dental implant surgeries safe and reliable?

Our team at Pure Dental Health are dental implant experts, with extensive training, experience and education in completing safe, reliable dental implant surgeries. Every precaution is used to ensure that our patients' have the best medical care during their procedure. Dental implant surgery has a very high success rate, with 95-98% of surgeries resulting in successful new implants.

Are there any qualifications to be a dental implant candidate?

Most people with missing teeth can turn to dental implants as a solution for restoring their smile. However, like any surgery, there are factors our doctors will look at before recommending dental implants. We evaluate our patient's health, medical history and bone density in their jaw along with other factors to ensure they are a good candidate for this procedure.

I have more than one missing tooth. Can I get multiple dental implants?

Yes, many of our patients receive more than one dental implant. Some people have complete smile restorations using dental implants. Our dentist will do a thorough exam and determine whether dental implants can be used to replace all of your missing teeth.

Will Pure Dental Health provide dental care after I get implants?

Our office is a full service dental provider, offering general, cosmetic, sedation and restorative dentistry. We will be happy to provide ongoing care for your smile in our friendly and patient-centric office. We put our patients' health and comfort first, providing the latest options in dental services in a relaxing environment. We even pamper our patients to make them feel at home with amenities such as hot, scented towels, warm blankets, flat screen TVs, wireless headsets and an internet bar.

Do I have to pay for my dental implants up front?

There are several financial options available to pay for your dental implants. If you have dental insurance that covers the procedure, we accept most plans at our office. We also have financing and payment plans available for any expenses not covered by insurance to make it easy to spread out the cost of your implants over time.
If you live in Roswell and are ready to explore restoring your smile with dental implants, contact Pure Dental Health. We have extended office hours for your convenience. Schedule your appointment today for a consultation with one of our dental implant specialists and start your journey toward your new smile.
Sedation Dentistry
*Patients specific needs vary and prices are only estimates. You will need a CT scan and exam by the dentist to determine exact prices
We believe that once you come in to meet and discuss your dental needs, learn about the Pure Dental process, and understand the pricing and options…you'll make the decision to go with us!
Our doctors have extensive education and experience in implant placement, restoration, and recovery.
We handle all phases of the implant process in-house, without the need to refer you to another office.
We provide a treatment plan consistent with your personal dental health.
Our doctors and dental care team have been recognized for providing exceptional patient care and communication before, during and after treatment.
You can trust Pure Dental for superior, patient-centered care.
Schedule Your Appointment Online