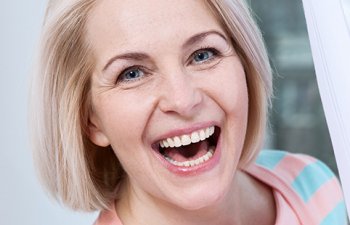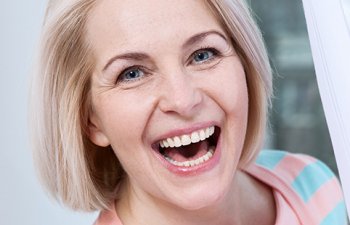 When it comes to replacing missing teeth, you've got options. Restorative dentistry includes dental implants, crowns, bridges, partials and dentures. It is important to determine your specific goals for teeth replacement and consider your unique clinical needs. If you need to replace a full arch of teeth, and want maximum stability in your new smile, an overdenture may be the way to go. Overdentures, also called implant-retained dentures, use dental implants to secure a custom upper or lower denture. There are no messy adhesive creams to deal with, and you'll be able to chew, speak and laugh with the confidence you once had with natural teeth.
All-on-4 Addresses the Drawbacks of Overdentures
If you are considering implant-retained dentures, you may be dreading the cost, procedure time and recovery. In addition, if you have limited bone structure, you may be facing a bone grafting procedure in order to qualify for implant dentures, which extends the process even further. There's good news. Modern dentistry now offers a revolutionary overdentures system called All-on-4 implant dentures. The All-on-4 method solves many of these drawbacks and hesitations of getting an overdenture, here's how:
No Bone Grafting

The All-on-4 implants are uniquely designed to be placed at an angle within the jaw, which means that less bone structure is needed to fully support the implant. This is ideal for patients that would have to undergo bone grafting for traditional implants.

Less Invasive, Less Recovery

You'll also benefit from a minimally-invasive oral surgery with All-on-4 implants. This consequently allows patients to recover quicker and more comfortably.

Faster Results

The All-on-4 system has the hallmark advantage of providing a new set of teeth in a single day! Unlike other restorative options using implants, you can walk out of the procedure with a complete and confident smile.

Cost-Effective

Less time in the dental chair results in less expense to the patient. With no bone grafting and a same-day procedure, your wallet will appreciate the savings with All-on-4 implant dentures.
Are you a candidate for All-on-4? Call Pure Dental Health to find out. We are known for excellence when it comes to rebuilding your smile.
Posted on behalf of Pure Dental Health