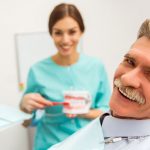 Once you've decided to explore dental implants to restore missing teeth, you've arrived at your next decision — finding the practitioner to do your work.
What kind of practitioner should you look for?

Some people think they might need to see a specialist, such as a prosthodontist or periodontist. The former specializes in restoring oral function by making and fitting artificial devices to replace missing teeth. The latter specializes in treating diseases and problems with bone, connective tissue and gums that surround and support the teeth. Both provide dental implants.

But these days, practitioners in general dentistry routinely perform dental implants along with their more traditional work, and you can expect that most dentists will offer them. Find out how extensive a dentist's training has been, how long he or she has been placing implants and how many he or she does annually.

How long will the process take?

In many cases, when bone is sound, it's possible to complete an implant in one day, but often, the procedure is done in stages, with gums being allowed to heal and bone allowed to grow along the way. That could take a year.

The dentist will do an initial scan to determine a plan and a schedule for your work. He or she should also inform you if there are any complications involving sinuses or nerves and discuss advantages and disadvantages of treatment options.

Ask the dentist to explain the technology that will be used to evaluate your bone, place the implant precisely and promote healing after surgery.

How invasive is the process going to be?

Many patients are apprehensive about surgery. But even though implants involve drilling into bone, bleeding and pain are minimal.

At Pure Dental Health, we can offer IV sedation if you need that for anxiety. Some other patients are fine with the noise-canceling headphones and routine numbing of the area. Of course, we make patients comfortable afterward if they experience any swelling or pain.

Are dental implants advisable for diabetics?

Diabetes is no longer considered a risk factor for implants. If you're a diabetic, you want to discuss any precautions the dentist will want to take. But studies show that diabetics can successfully be implanted, and, of course, when they replace missing teeth, they can eat a better diet to help them control their diabetes.

Is there an age limit recommended for getting implants?

Your dentist will examine your bone structure, determine your overall oral health and review your medical history. But there's no age limit to restoring optimum function of your teeth. Or your appearance.

What will dental implants cost?

Cost is a big concern for most patients, especially if treatment will extend over months. Think of dental implants as an investment in your health and well-being. Replacing multiple teeth can easily exceed five figures, but more than 90 percent of implants can last for 10 years. Many people keep their implants the rest of their lives.

Because of many factors, the price depends on your situation. So an evaluation is required. If financing is necessary for your situation, make sure that the practice offers that. At Pure Dental, we have financing options.

Will your insurance cover dental implants?

Call your prospective practice to ask what plans they accept. Keep in mind that they may have recently added your insurance provider to their network, even if you don't see your carrier listed on their website.

At Pure Dental Health, we currently accept all PPO insurance plans including, but not limited to, Blue Cross Blue Shield P.O., Cigna Radius, Delta Dental Premier, Guardian, Humana, United Concordia, MetLife, Aetna PPO, Cigna Core and United Healthcare.
Call us today.
If you're ready to discuss the possibility of having dental implants, please contact us at Pure Dental Health today. Schedule an appointment to learn more about how we can help you restore your smile and even your outlook on life.
Posted on behalf of Pure Dental Health