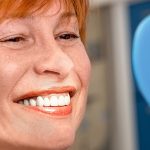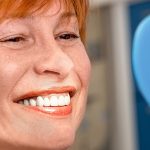 Every smile is important. Many people in their adult years are unhappy with their smiles, yet they mistakenly believe that they are past the point of no return. They assume that if they did not have their smile corrected in their adolescent or teen years that they are too old for orthodontic treatment. The fact is, a healthy mouth can be corrected and improved at any age.
An aligned smile is a healthier smile. Crooked teeth are difficult to keep clean due to all of the additional places for food to become trapped and for plaque to be difficult to reach. Every time you eat or drink anything other than water, small particles of food and sugar are left behind. These particles easily become trapped in the rough surfaces of the back molars, but they also become trapped in the spaces between the teeth. Flossing is the only tool that is specifically designed to reach these tight spaces to remove trapped debris and plaque. However, even flossing and brushing are more difficult when the teeth are not properly aligned. Maneuvering around teeth that jut out or are pushed back requires extra time and patience with each cleaning in the morning and at night.
Misaligned teeth can also lead to other oral health concerns. TMJ/TMD, constant headaches, earaches, and even neck issues can be linked to crooked teeth. Adults who choose not to correct their smiles are putting themselves at risk for other health concerns outside of their oral health.
Many adults avoid seeking options for adult orthodontics because the only image that they conjure up in their mind is a mouth full of traditional metal braces. What we at Pure Dental Health want to let you know if that braces have evolved over the years and there are multiple options for straightening your adult smile! If you feel that you would be embarrassed by being a "metal mouth," you do not have to be. All orthodontic treatments work by using specific, applied pressure to move the teeth into their desired positions. The options that patients have today are lighter, less noticeable, and more comfortable.
At Pure Dental Health, Dr. Scott and our dental team offer excellent orthodontic treatment for adults who are ready to achieve a picture perfect smile. We proudly offer Six Months Smiles® as a cosmetic dentistry procedure that offers an aesthetically straightened look and straighter smile for most patients in just six months. We also proudly offer Invisalign® Clear Aligners for patients who wish to undergo orthodontic treatment inconspicuously. Most people will never even realize that you are straightening your teeth if you choose to undergo Invisalign® treatment! Invisalign® utilizes a series of clear aligners to move the teeth into place, and this process typically takes between one to two years. However, this is often a desired choice because, even though the treatment is over a longer period of time than Six Months Smiles®, the invisible aligners keep your treatment discreet.
Your oral health and the appearance of your smile can both have a huge impact on your personal and professional life. Whether it is "fair" or not, people will judge you based on your smile. If you are self-conscious about your smile and hide it behind your hands or closed lips, people often get the impression that you have other things to hide. If you are hesitant to smile at all because of your embarrassment, people may tend to have the impression that you are not friendly or that you are unapproachable. Or, if your smile is simply unattractive, you may be overlooked for job promotions or social dates because it may appear that you do not value or take care of your oral health. Many people say that their crooked teeth are holding them back from living life to the fullest. If that describes you, the time is now to improve your smile!
If you are ready to take the next step towards getting the smile that you have always wanted, contact Pure Dental Health today to schedule a free consultation. We will meet with you to discuss the best option for your smile. Do not let any more time go by or let indecision hold you back from a beautiful smile. If you are tired of having crooked teeth and are ready to make a change in your appearance, Pure Dental Health is the reputable dental practice to trust in Atlanta.
Posted on behalf of Pure Dental Health