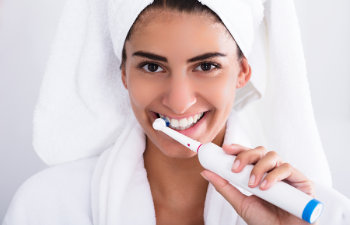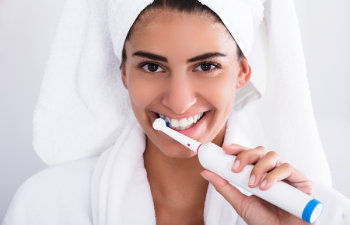 According to a survey conducted by the American Dental Association (ADA), about 75% of American adults reported that they brush their teeth twice a day or more. This means that the majority of people in the United States do brush their teeth daily. While this is great news, it doesn't mean that most Americans are brushing the right way.
If you are an adult, you probably don't think much about how you are brushing your teeth. You were likely taught at a very young age how to brush, so it becomes a daily habit like tying your shoes or brushing your hair. But what if you've been doing it wrong all these years? While brushing your teeth the wrong way is certainly better than not brushing at all, you should know that there are correct and incorrect methods and techniques when it comes to using your toothbrush.
Don't Do This When Brushing Your Teeth
At Pure Dental Health, we've compiled a list of some of the most common mistakes patients make when brushing their teeth.
Using the Wrong Toothbrush
While the color, size and type of toothbrush can be a matter of personal preference, the texture and firmness of the bristles is not always negotiable. If you are using a hard-bristled toothbrush, you may be putting yourself at risk for gum recession and enamel damage over time.
Not Replacing Your Toothbrush Often Enough
It is generally recommended that you replace your toothbrush every 3 months or when the seasons change. You should toss it out sooner if the bristles appear frayed or if you've been sick.
Brushing In Circles
Your technique is important when it comes to brushing your teeth. If your brushing strokes create a large circular motion instead of a back-and-forth stroke, you may be missing areas of your tooth surfaces.
Not Brushing Long Enough
If you not brushing twice a day for a full two minutes (that's 120 seconds), then you are falling short on what the American Dental Association recommends for optimal oral health.
Brushing Too Hard
Did you know that food, bacteria and even plaque can all be removed with gentle strokes and pressure? Being aggressive or forceful in your brushing habits can only cause harm, such as receding gums and enamel erosion.
Forgetting to Brush Your Tongue
Millions of bacteria live on your tongue every single day. Not cleaning your tongue could be the reason for your chronic bad breath and frequent cavities!
At Pure Dental Health, we are happy to evaluate your brushing game? Our dentists can even recommend new products and technology to make tooth brushing easier and more effective in your home. Call now to schedule your next routine dental checkup in Buckhead.
Posted on behalf of Pure Dental Health