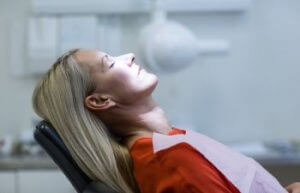 If you have a fear of the dentist or have ever had to have a lengthy dental procedure, you may already be familiar with the term sedation dentistry. Sedation dentistry is used to help patients relax in the dental chair. There are many forms of sedation dentistry, however, and not every dentist is equipped to offer them all.
What is IV sedation dentistry?

IV moderate sedation involves administering a sedative through your veins (or intravenously). This allows it to work quickly, and it also gives the dentist an easy way to adjust the level of sedation during treatment.

Does IV sedation put you to sleep?

This method of sedation does not put a patient to sleep. Instead, patients remain in a semi-awake state, or a "twilight sleep." In most cases, you'll have little to no memory of the procedure if you receive IV sedation.

When is IV sedation used?

IV sedation may be recommended in a variety of circumstances. It can be needed for patients that are severely anxious or fearful of the dentist and need more than nitrous oxide (laughing gas) to help them relax. IV sedation is most commonly used for patients who are undergoing a more complex or lengthy dental procedure, such as dental implants, extraction or a full mouth reconstruction.

How is IV Conscious Sedation different than General Anesthesia?

It is important that patients understand the difference between general anesthesia and IV conscious sedation. While both may be administered through an IV, you will remain awake during IV conscious sedation but in a deep sleep with general anesthesia. In fact, patients cannot be aroused while under general anesthesia and will need support for breathing and vital sign monitoring.

IV conscious sedation allows patients to avoid discomfort, but remain in a safer "semi-awake state." This is often all that is needed to reduce anxiety and provide a relaxing dental treatment. While under IV sedation, you can even respond to a verbal command or light physical touch and will not need oxygen or other breathing support.

Can Any Dentist Perform Sedation?

While most dentists now offer minimal or moderate sedation, such as nitrous oxide or oral sedation, only an elite percentage of dentists are qualified to administer more complex sedation techniques such as IV conscious sedation. At Pure Dental Health, we are proud to have a licensed IV sedation dentist on staff to ensure all patients have a comfortable and pleasant experience in the dental chair.

How Will I Feel After My Treatment?

Most patients feel surprisingly very good after having IV sedation. For your safety, however, we ask that you arrange for a friend or family member to drive you home. You will not remember your procedure but should easily return to an awake/alert state of mind.
Have more questions about IV sedation from your dentist? We'd love to answer them. It can be a remarkable solution that enables patients to get the dental treatments they need and deserve.
Posted on behalf of Pure Dental Health