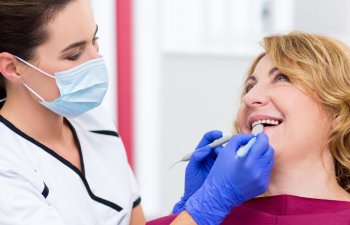 What makes a confident smile? At Pure Dental Health, we believe it is a smile that is healthy, functional and attractive. Unfortunately, when patients have several missing teeth, all three of these factors are jeopardized. Cosmetic dentures are an excellent solution to help you laugh, speak and eat with confidence once again.
Restore Function and Aesthetics
Neglecting to replace your missing teeth can lead to a variety of aesthetic and functional problems when it comes to your smile. Missing teeth can cause the adjacent teeth to shift out of place, which often results in a misaligned bite and jaw discomfort. If you have multiple missing teeth, your jaw may not be properly stimulated when chewing. This can eventually lead to bone loss in your jaw and premature facial aging. You may also find that eating and speaking is more difficult with missing teeth, even when there are only a few teeth missing.
Full and partial dentures can instantly solve the setbacks of missing teeth. Modern materials and techniques have made traditional dentures more secure and natural-looking than ever before. While some patients opt to use dentures to bring back the smile they once had, others utilize cosmetic dentures as a way to achieve the smile they've always wanted. Getting to customize your new teeth in shape, color and size is part of the denture process.
A Solution for Faster Dentures
Can't wait for your new set of teeth? We get it. That's why we proudly offer the The Dentca CAD (Computer-Aided Design)/CAM (Computer-Aided Manufacturing) Denture System as a faster, affordable and more precise option in dentures. Dentca Dentures require only one office visit before final denture delivery as opposed to the five visits that are often necessary for dentures manufactured the conventional way. In addition, this innovative system reduces the processing time from approximately thirty days to approximately ten days! You shouldn't have to wait for your new smile.
For more information about how dentures can improve your smile confidence or to find out if you are a Dentca Denture candidate, please call our Atlanta office today.
Posted on behalf of Pure Dental Health