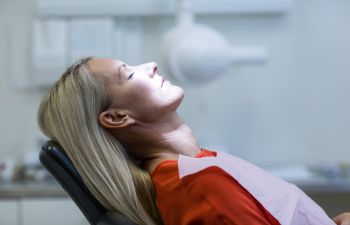 All people on Earth have fears, both rational and irrational, that keep them from doing certain things in life. Those who have a severe fear of heights typically avoid roller coasters and balconies on high buildings. This fear does not usually interfere with their quality of life. However, some fears do interrupt life and cause significant adverse concerns. Fear of the dentist is an incredibly common fear among people in the United States. Fear of pain, fear of the unknown, fear of a gag reflex acting up, fear of how much dental treatment may cost, or traumatic fears that stem from childhood often keep people from receiving the dental care that they need, thus, in turn, having a negative impact on their entire lives.
The health of your mouth has a direct impact on the health of your entire body. Diabetes, kidney failure, respiratory infections, heart disease, miscarriage, preterm labor, and other serious health concerns have been specifically linked to poor oral health. Understanding how vital your oral health is to your entire body can help you gain a new perspective on the importance of regular dental visits. At Pure Health Dental, we understand that people come from all sorts of backgrounds and reasons for dental fears. Our practice is committed to making your dental experience a good one. Our professional dentistry staff is equipped to handle your dental phobia and put you at ease in our practice. Please keep reading to learn about everything we can do to make your visit less stressful and beneficial to you.
The first thing for you and us to understand is why you are fearful of the dentist. Our practice utilizes state-of-the-art technologies and advancements to ensure that all our patients get the quality dentistry that they need. Chances are we have a solution to the fears that are preventing you from visiting the dentist.
Pain is the most common fear that keeps people from dental appointments. If you are worried about any type of pain, Pure Dental Health is proud to offer sedation dentistry. With the help of sedation, you can be at ease before and during your appointment! Our practice offers three types of sedation dentistry, and we will gladly use which ever one suits your needs.
Nitrous oxide (aka: laughing gas) helps many patients "take the edge off" so that they are able to relax during a regular dental cleaning, exam, or procedure. Nitrous oxide works quickly and wears off quickly, allowing patients to come in for an appointment and walk out without any lingering effects.
Oral sedation allows patients to take a pill before their procedure so that they reach a deeper state of relaxation before the appointment begins. Many people actually fall asleep with oral sedation, not knowing anything is going on during the procedure.
IV sedation is a specialized treatment offered by selective dentists in the state of Georgia. Dr. Justin Scott is proud to offer IV sedation that allows patients to reach maximum relaxation so that they do not even remember that they have had treatment done!
Embarrassment is another reason many people fear visiting the dentist. They know that it has been far too long, and they are embarrassed about the state of their oral health. At Pure Dental Health, our highest priority is your oral health. It is our mission to help you achieve a healthy smile and to maintain it going forward. If you have avoided the dentist for a couple of years or a couple of decades, we are truly glad just to have you back in the dental chair.
Cost of dental procedures often feels like a burden and inhibits people from receiving the dental care that they need and deserve. Finances can cause anxiety, and we truly understand. Pure Dental Health offers a variety of financing options and flexible payment plans. We do our best work for all our patients, and we will come up with a reasonable payment plan that will work for you to ensure that your smile is healthy.
Busy schedules often interfere with regularly scheduled dental appointments. Our practice is proud to offer extended business hours, to allow for appointments before and after school/work. Contact us, and one of our friendly office staff will work to find a time that is convenient for you to come in.
If you are ready to move past your fears and make your oral health a priority, contact Pure Dental Health today. We look forward to seeing you soon!
Posted on behalf of Pure Dental Health