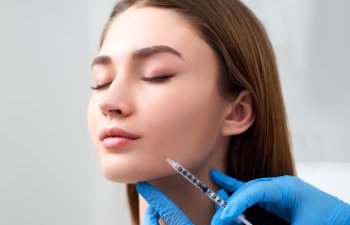 You visit the dentist to achieve and maintain a beautiful smile, right? You want your smile to be a healthy, attractive feature that you are proud to share with the world around you. Well, what if your teeth and gums are perfectly healthy, yet the area around your mouth is detracting from your smile? Are your facial expressions, "resting face," or first impressions really saying what you want them to?
One of the most prominent signs of aging of the face is the area around the mouth. The "parentheses," or marionette lines, around the mouth are the creases in your skin that run vertically outside the corners of your mouth. It is ironic that the marionette lines that are often associated with the appearance of frowning are actually most commonly caused by years of smiling. When you smile, the facial muscles pull the cheeks up higher near the eyes and "pinch" the skin around your mouth to form a smile. While it is most certainly admirable to be proud of your "laugh lines" and any wrinkles that have been acquired from a life well lived, many people still find themselves self-conscious about any lines on their face that make them appear older than they truly are or give off an unfriendly impression to others.
At Pure Dental Health, we are a comprehensive dental practice that wants to help you make every aspect of your smile beautiful. Our practice proudly offers Botox for patients who want to put their best smiles forward. We understand that you may have the whitest, most beautiful smile; yet, if your smile is surrounded by wrinkles, you may be embarrassed or feel the need to hide your face. Botox is a brand name of a toxin produced by the bacterium Clostridium botulinum. Botulinum is a toxin that, in large amounts, can cause botulism: aka. Food poisoning. While one of the most serious complications of botulism is paralysis, scientists discovered a way to use botulinum for the direct treatment of wrinkles. Botox blocks signals from the nerves to the muscles so that the injected muscle can no longer contract, or cause wrinkles. The "softening" of the muscles allows them to relax and the skin to appear fuller.
Botox injections allow you to reduce the appearance of marionette lines and smooth the skin area around the mouth. By treating the specific muscles that affect the drooping skin and muscle area, Botox can help patients appear younger, happier, and more approachable. Patients have told us how treating the marionette lines around their mouth has given them the confidence needed to apply for a new job, a promotion, even helped to work up the courage to talk to that "special someone".
The Botox procedure for treating marionette lines is a simple procedure. The procedure itself takes only a few minutes and no anesthesia is required. Botox is injected with a very fine needle into the specific muscles that are causing the problem areas around the mouth. Most patients will experience the full effects of Botox injections within three to seven days after the procedure. One of the greatest benefits of multiple Botox procedures is that with continued use, many patients find that their results last longer and longer between procedures. The muscles begin to respond with a more semi-permanent outcome over time.
If you are interested in learning more about Botox injections to improve the appearance of your smile by taking years off your appearance, contact Pure Dental Health today. We are trained to give Botox injections to help solve several different health and cosmetic conditions that you may not even be aware of. Our staff is friendly and personable, and we would love to help you feel and look better with the help of Botox. Call today to learn how Botox can help you.
Posted on behalf of Pure Dental Health