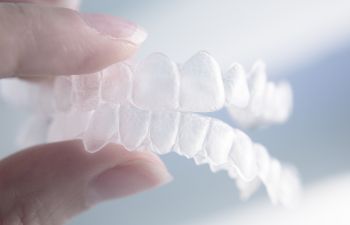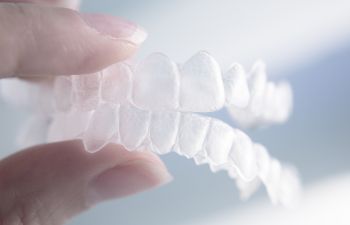 Not willing to undergo months of metal brackets and wires on your teeth to get a straight smile? We get it. More and more patients are turning to an alternative orthodontic solution using Invisalign. Invisalign is a clear orthodontic therapy that can address gapped, crowded and crooked teeth without bulky metal. Instead, Invisalign uses carefully crafted removable aligners to move your teeth into ideal position. You won't have to sacrifice way you look or the way you eat during the process.
While Invisalign offers remarkable advantages over metal braces in terms of convenience and aesthetics, there are some things you can do to make your experience better and your results more successful.
Here are 5 helpful tips when choosing Invisalign:
#1 Brush and Replace After Every Meal: Patients love the fact that they can remove their Invisalign aligners to eat each day. However, you'll need to wear them for 22 hours per day to stay on track with your treatment timeline. Therefore, as soon as you finish your meal or snack, try to brush your teeth and put your aligners back in. Brushing ensures that food debris, sugars and bacteria aren't left on your teeth and stuck under your aligners all day long. This can lead to cavities and bad breath as well as distort the shape of your aligners in some cases.
#2 Be Smart with Dark Drinks: You'll quickly realize that you can still drink without removing your aligners. However, you should know that dark beverages like coffee, tea, dark sodas and red wine can stain your Invisalign aligners over time. To ensure you don't sabotage the discretion that Invisalign offers by making them dingy and more visible, try to cut back on dark drinks or remove your aligners before you sip.
#3 Be Diligent With Your Aligner Schedule & Order: As an Invisalign patient, you won't be asked to come in the office for frequent adjustments. Instead, you'll be given a series of custom aligners to change out at a recommended time and specific sequence. This is critical to the success of your treatment so do your best not to delay it or confuse the order of things.
#4 Expect and Be Patient with a Difference in Feel & Speech: While Invisalign aligners are smooth and relatively thin compared to braces, there is still an adjustment period in which things may feel a bit weird (not painful) in your mouth. You may even speak differently at first. Know that this feeling is temporary and the more you leave them in, the quicker you will adjust.
#5 Care for Your Aligners Correctly: Invisalign is very low maintenance, but you can't just ignore your aligners. As an appliance that sits in your mouth every day, it needs to be cleaned properly. We encourage patients to clean their aligner trays with warm water and antibacterial soap. Do not use toothpaste to clean your aligners!
Need a certified Invisalign provider in Atlanta? Call Pure Dental Health. We are a state-of-the-art dental practice who welcomes the opportunity to straighten your teeth and improve your well-being!
Posted on behalf of Pure Dental Health