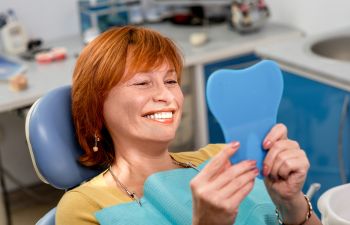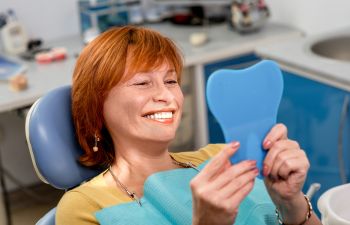 When it comes to turning back the hands of time, most people look to a plastic surgeon or research aesthetic services to improve their complexion. However, wrinkles and sagging skin aren't the only culprits to an aging appearance. Your teeth can play a large role in how young or old you look. Therefore, you may be surprised to learn the ways a dentist can rejuvenate your overall appearance and help you look younger, more attractive and more energetic.
Your smile is important. In fact, others make assumptions about your health, diet and age by judging the appearance and condition of your teeth. Unfortunately, teeth can age just like your skin. Due to lifestyle habits and the natural aging process, your smile can suffer the following over time:
Discoloration/Staining
Chips/Cracks
Worn down teeth
Drifting teeth, alignment issues
Missing teeth
Gum recession
Restoring a Youthful Appearance to Your Teeth
Helping your teeth get back to the condition of their youth may involve a number of dental services, including treatments within general, restorative and cosmetic dentistry. For extrinsic tooth stains and irritated gums, a professional dental cleaning and better oral maintenance may be in order. Keep in mind that healthy teeth can also portray youthful teeth. Getting rid of unsightly stains and dull teeth can drastically improve your overall complexion. If a dental cleaning is not enough, you may consider teeth whitening as a solution for a whiter, more youthful smile.
The next step is to evaluate the condition of your teeth. If you have chipped, fractured or missing teeth, it is important to address these issues. Neglecting damaged or missing teeth can drastically affect your oral health and your body health – not just your appearance. Crowns, bonding and dental implants can be used to restore the structure and integrity of your smile and help you look younger.
Finally, cosmetic dentistry can be elected to turn back the hands of time. Many aging adults choose porcelain veneers for an instant smile makeover and to address imperfections on the front (visible) teeth of their smile. You can choose the color, shape and size of your veneers so that you can regain the smile of your youth. Cosmetic dentistry can take years off your appearance without the cost, risk and downtime of plastic surgery.
Does your Smile Need a Lift?
Before you spend thousands on plastic surgery or waste away your savings in anti-aging products, consider what a dentist can do for your aging appearance. Call Pure Dental Health today to learn more about how our cosmetic and restorative dental services can revitalize your smile and make you look younger.
Posted on behalf of Pure Dental Health