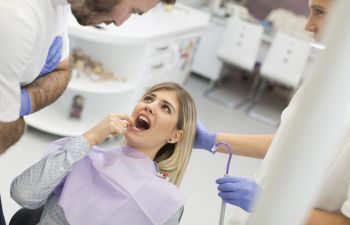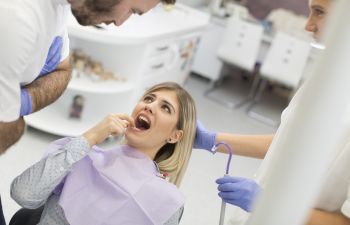 As much as we want to keep our permanent teeth intact, there are certain situations that can cause them to break, crack or chip. Whether you were biting a piece of hard candy, grinding your teeth (bruxism) at night or involved in an accidental fall on the pavement, teeth fractures can happen. At Pure Dental Health, we know what a frightening experience it is to chip a permanent tooth, but we also want you to understand the often simple and quick ways we can restore your smile after your dental damage.
Recognize the Situation
It is typically obvious when you break or chip a tooth due to the feeling of the sharp edge on your tongue or arising pain and sensitivity. You may even have a large chunk of your tooth break off into your mouth. Other patients, however, may suffer very minor chips or cracks in their teeth that go undetected until their next dental appointment. It is important to remember that your damaged teeth need to be addressed by your dentist, regardless of whether or not it is uncomfortable to you.
The Importance of Fixing Dental Damage
Your teeth are composed of specific layers. The outermost layer, called the enamel, is the strongest substance in your entire body. However, if this protective layer becomes damaged or chipped, it leaves the tooth vulnerable to further injury and possible infection. Restoring a fractured tooth is essential, even if you can't see it or feel it!
How We Treat Your Chipped Tooth
If you suspect for any reason that one of your teeth is chipped, let you dentist know immediately. Only a dental professional can decide whether or not your tooth needs urgent treatment or whether it can wait to be seen. Be prepared to describe your symptoms in detail. Depending on the severity and location of your chipped tooth, we may offer the following:
Filing down a rough or barely chipped tooth edge
Composite bonding for minor chips
Root canal and crown for large breaks
At Pure Dental Health, we know accidents happen – including those that involve your smile. Please let us know right away if you suspect that you have cracked, chipped or broken a tooth. We will make time in our schedule to see you!
Posted on behalf of Pure Dental Health