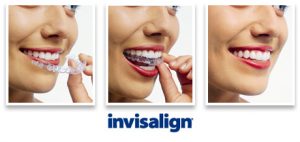 For decades, the only way for people to achieve straighter teeth was through the traditional orthodontic treatment that utilized metal braces. While highly effective, they are often an undesirable approach for adjusting a person's teeth simply because of how noticeable and unattractive they are. Adults are typically the most self-conscience about undergoing orthodontic treatment; whether they fear embarrassment in professional settings or in their social lives, adults often choose to live with crooked teeth rather than choosing orthodontic treatment. This is where the advantages of Invisalign clear aligners become so desirable for those who are looking into other orthodontic treatments. Invisalign clear aligners are an innovative approach to straightening the teeth, and they are a great alternative for many people who do not wish to suffer through metal braces for the next two or more years.
The Invisalign system was designed to give discretion to adults who desired orthodontic results without having to wear traditional metal braces. Invisalign aligners work by using a customized set of dental aligners that gradually move the teeth into their desired positions. After your visit to the dentist to determine that you are a good candidate for Invisalign, you will be given a few sets of aligners that are worn for approximately two weeks. After two weeks (or a specific time determined by your dentist), you will change your aligners to the next set in progression to carefully adjust your teeth. Each time a new aligner tray is custom fitted to your mouth, slight adjustments are being made to shift and straighten your smile. This slight shifting takes the place of tightening adjustments that are typically made with traditional metal braces. The aligners work to move the teeth into their desired positions.
Aligner trays are made from BPA-free plastic, making them safe for everyday wear. The transparency of the aligners makes them virtually invisible to others, allowing you to keep your orthodontic treatment as discreet as you wish it to be. Because the dental aligners are custom fitted to your specific mouth, they are quite comfortable to wear. You need not worry about irritating wires and brackets that can cause sores on the mouth because the aligners simply sit on top of your natural teeth. Patients of Invisalign Orthodontic treatment are able to go about their daily lives without any interruption or inconvenience. Invisalign aligners can be worn during recreational activities and sports without worry of injuring the mouth during participation.
Invisalign is a truly convenient method for straightening the teeth and achieving a beautiful smile. The aligners are worn each day for at least 22 hours per day, and they do the work. The only times that the aligners should be removed is when you eat, drink anything other than water, floss, and brush your teeth. Their discretion allows them to go unnoticed, and if you are discreet while removing your aligners, no one will suspect that you are even wearing them.
At Pure Dental Health, we want all of our patients to have the ability to achieve a beautiful, healthy smile. Invisalign orthodontic treatment is often less expensive than traditional orthodontics simply because it is often a faster method for aligning the teeth. The average case for Invisalign treatment is 12 months. However, the timing of any one person's treatment is always based upon the conditions of a patient's teeth and how long it will take to achieve each individual's results. Our doctor will map out a specific aligner interval sequence based on each person's teeth in order to create a specific time frame for successful treatment.
Some of the main conditions that can be successfully treated through Invisalign are:
Gapped Teeth
Over Bite
Under Bite
Open Bite
Cross Bite
Crowded Teeth
If you would like to learn more about Invisalign and whether or not it is an appropriate treatment for your smile, please contact Pure Dental Health today. We proudly accept many popular dental plans and offer financing for those needing payment options for any treatments not covered by insurance. We want to help you achieve the smile that you have always wanted.
Posted on behalf of Pure Dental Health