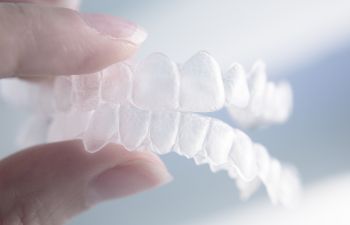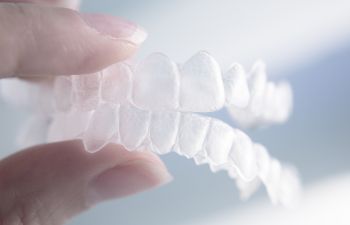 Does the thought of wearing metal braces make you want to hide? With today's advancements in orthodontics, you don't have to endure years of bulky metal brackets to get a straighter smile. Countless patients are turning to Invisalign, a traditional braces alternative that respects your desire for discretion, convenience and comfort.
Invisalign uses a series of comfortable clear aligners that are exchanged every two weeks. These aligners can gently move your teeth into proper position over time, without the need for painful tightening appointments. Here is a closer look at the remarkable benefits of Invisalign compared to traditional braces:
Invisalign aligners are discreet.
The nearly invisible design is the hallmark advantage of using Invisalign. The aligners are made of thin, clear plastic material. Without others noticing, you can still preserve your image while undergoing orthodontic treatment.
Invisalign aligners are comfortable.
With Invisalign, you won't ever battle irritation from metal wires and brackets. Instead, your aligners will be a smooth plastic that is customized to fit your unique smile. The only pressure you may experience is a mild and tolerable pressure when you change your aligners, but this is very temporary.
Invisalign provides ultimate convenience.
Invisalign aligners are removable! This allows adults and teens to take out the aligners while eating and brushing. Therefore, there is no restricted diet with Invisalign. Go ahead and enjoy popcorn and other favorite foods. While Invisalign aligners can be conveniently taken out, even for special events, it is important that you wear them at least 22 hours every day for effective treatment.
Invisalign works fast.
Invisalign has been known to work nearly twice as fast as traditional metal orthodontics. Not only does your smile straighten faster, but you'll be visiting us much less frequently during your treatments. Invisalign doesn't require multiple office visits for tightening or adjustments like traditional braces do.
Invisalign protects your smile health.
The ability to remove your aligners for brushing and flossing is a highlighted advantage for your oral health. Many braces wearers suffer from the effects of poor oral hygiene because it is more difficult to clean the teeth and gums around bulky brackets and wires. These consequences can include gum disease, bad breath, decay and unsightly white spots after the braces come off. With Invisalign, your final results can mean both a beautiful smile and a healthy smile!
At Pure Dental Health, we are proud to offer some of the most innovative orthodontic treatment options available. We understand that our patients need faster, more comfortable and more discreet solutions when achieving a straighter smile.
Posted on behalf of Pure Dental Health