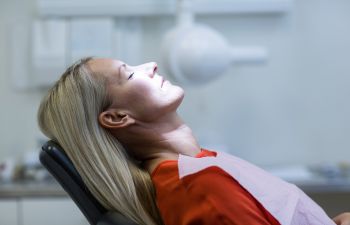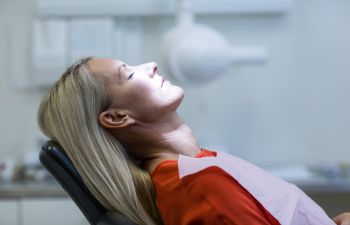 Not all patients feel at ease in the dental chair. In fact, as much as 15% of Americans avoid going to the dentist due to fear or anxiety. Dental anxiety can range from sweaty palms in the waiting room to a paralyzing fear of stepping foot in a dental office. Regardless, if your dental anxiety is keeping you from getting or tolerating the dental care your smile needs, you should consider sedation dentistry.
Sedation dentistry is offered in most modern dental practices. However, not all dentists are qualified to provide all levels of sedation. While a large majority of dentists offer Nitrous Oxide (laughing gas) and Oral conscious sedation (sedative pills), only an elite group of certified dentists can provide in-office IV sedation. IV sedation is reserved for patients who have moderate to severe levels of dental anxiety. This method of sedation delivers the highest level of relaxation and can also be helpful to patients who need lengthy or extensive dental work in one visit.
How Does IV Sedation Work?
Many patients have the misconception that IV sedation is synonymous with general anesthesia. While both methods may be delivered intravenously, IV sedation does not put a patient to sleep! Instead, a sedative solution is administered through an IV to foster deep relaxation. While some patients choose to close their eyes and fall asleep, IV sedation still allows you to communicate or interact with your dentist if you choose. During the procedure, however, you can expect to be unaware of the procedure as well as the sights, smells and sounds of the dental office that may trigger additional fear and angst. For your safety and peace of mind, you should know that the level of IV sedation can be controlled and adjusted quickly at any time during the procedure.
Patients can remain completely comfortable and relaxed during their visit and often have no remembrance of the procedure that was performed. A more comfortable patient can often mean higher quality care from a dentist!
The highlights of choosing IV sedation include:
Takes Effect Quickly
Easily Adjustable Dose
Long Period of Amnesia
Preparing for IV Sedation
You will have to do a small amount of prep work to get ready for your IV sedation dental visit. The American Society of Dentist Anesthesiologists recommends not eating or drinking anything at least eight hours before your visit or procedure. You also need to arrange someone to drive you home from your appointment. To ensure you are able to rest when you get home, you should also consider clearing your schedule for the remainder of the day.
Finding an IV Sedation Dentist in Atlanta
If you have a sensitive gag reflux, severe dental phobia or can't sit still for a long dental appointment, find out more about IV Sedation. At Pure Dental Health, we proudly have a licensed IV Sedation Dentist who can provide the highest level of comfort to your dental visits in Buckhead and Dunwoody.
Posted on behalf of Pure Dental Health