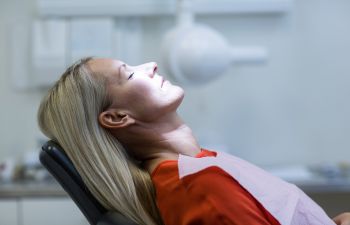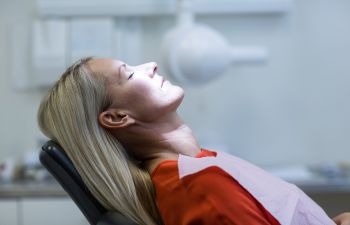 When you think of sedation, you probably imagine being put to sleep. However, dental sedation is typically different. Most forms of sedation dentistry put patients in a deeply relaxed or twilight state so that a lengthy or invasive dental procedure can be efficiently and comfortably performed. It is a benefit to both patient and dentist.
While many dentists offer oral conscious sedation or nitrous oxide (laughing gas) to help patients feel at ease, there is only an elite group of dentists who offer a deeper level of sedation dentistry called IV sedation.
What Is IV Sedation in Dentistry?
IV sedation or intravenous sedation involves delivering a sedating medication directly into your bloodstream. This is accomplished by inserting a thin needle into the veins on your hand and injecting an anti-anxiety medication into the bloodstream. It is a method used to help patients quickly relax and endure a lengthy dental procedure. It can also be helpful to those who have a moderate or severe anxiety surrounding dental care.
You can expect to feel the effects of IV sedation almost immediately. Many patients fall asleep but you may also remain awake, yet very calm and unbothered by your procedure. Most patients don't recall details about their procedure once the sedation wears off. There are different levels of sedation dentistry to choose from.
Here are some highlighted reasons to find a dentist who is qualified to administer IV sedation:
Fast delivery and quick sedation directly to bloodstream
Perfect for dental emergencies
Still able to communicate with dentist but relaxed enough to fall asleep
Treats dental anxiety and severe aversions to dentist (fear of needles, smell of latex, sounds of dental drill)
Able to be regulated and titrated to patient needs/comfort during procedure
Allows for more precise and efficient dental work from your dentist
Ideal for patients who need multiple procedures in one sitting
Triggers amnesic state – no memory of sights, sounds, smells or feelings of procedure once it's over.
Fewer side effects compared to general anesthesia.
More predictable.
At Pure Dental Health, we are proud to be one of the few dental offices in the area to provide a complete menu of sedation dentistry options. Our IV sedation dentist has completed special courses certified by the American Dental Association and passed a comprehensive on-site exam monitored by the state's dental board. We are serious about providing safe, pain-free dentistry to families in Buckhead!
Posted on behalf of Pure Dental Health