Need a Wisdom Tooth Removed?
.

Pure Dental Answers Questions and Offers Sedation to Remove the Pain!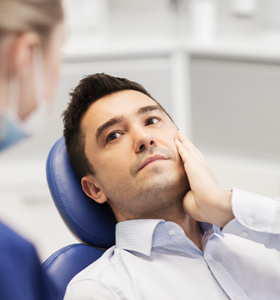 Most of us have been there. That third and final set of molars (aka wisdom teeth) emerge, are causing a lot of pain. In addition, they're probably starting to cause damage. Due to a general lack of jaw space, it may be that they're erupting sideways or even becoming impacted. This can lead to a number of disruptive dental problems, ranging from misalignment and infection to painful jaw cysts and surrounding bone loss. The truth is that they probably need to be extracted. Below are some answers to typical questions about wisdom teeth.
FAQs-
When should you have your wisdom teeth removed?
Wisdom teeth removal is typically performed in patients who are in their late teens or early 20's. Wisdom teeth can be removed either proactively or reactively, depending on the circumstances. In some cases, these teeth pose no problems to your existing oral health. However, for many others, pain, inflammation, bone loss, problems cleaning, and alignment issues can result from allowing them to remain. However, it is never too late to get your wisdom teeth extracted, especially if they are causing pain.
How long does it take to recover?
After your procedure, we will explain any post-operative instructions that will accelerate healing and reduce your discomfort. In most cases, the recovery period is only a few days.
What if my wisdom teeth haven't come in yet?
For those that have not had their wisdom teeth come in yet, your doctor can monitor their progress and determine whether they should be proactively removed. Using regular x-rays in conjunction with panoramic xrays to view their growth and formation, you doctor may recommend they be removed. This can occur for a few different reasons, including inflammation, infection, sinus issues, growth problems or impacted wisdom teeth.
My wisdom teeth don't necessarily hurt (pain isn't a problem). Why have them removed?
Wisdom teeth can cause problems other than just immediate pain. Because of their location and position, they can be difficult to keep clean. But perhaps more importantly, they can affect bridgework and/or other dental treatments and increase your chance of gum disease and bone loss without any noticeable symptoms.
Why Choose Pure Dental

.
Simply put, we know what you're going through, and we want to help-

Our doctors have extensive education and experience in wisdom teeth extraction and recovery.

We offer the latest in sedation therapy.

We provide a treatment plan consistent with your personal dental health.

Our doctors and dental care team have been recognized for providing exceptional patient care and communication before, during and after treatment. We believe that in addition to good service, patients have a good understanding of the options, recovery, and care.
You can trust Pure Dental for superior, patient-centered care.
Contact Pure Dental Health TODAY to schedule your exam through our online scheduling form or call us at
404-842-7200. We are ready to help!
Pure Dental Health
2285 Peachtree Rd NE, Suite 203
Atlanta, GA 30309
Phone:

(404) 842-7200