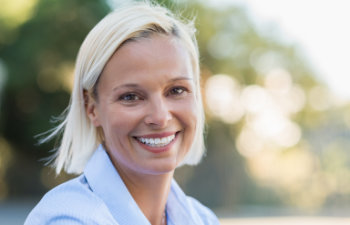 Do you have a damaged or weakened tooth that needs restoration? Are you tired of multiple dental visits for a dental crown procedure? At Pure Dental Health in Atlanta, we understand that your time is valuable, and that's why we are thrilled to offer same-day dental crowns – a cutting-edge solution that brings convenience, efficiency, and beauty to your smile restoration process.
The Power of Dental Crowns
Dental crowns are a versatile and effective restorative dentistry solution used to repair and protect damaged teeth. They are custom-made caps that cover the entire visible portion of a tooth, providing strength, protection, and improved aesthetics. Crowns are typically used to restore teeth with:
Significant Decay: When tooth decay has become extensive and a regular filling is not sufficient, a dental crown can restore the tooth's structure and functionality.
Fractures or Cracks: A fractured or cracked tooth can be vulnerable to further damage, and a crown can safeguard it from further deterioration.
Large Fillings: Teeth with large fillings that are at risk of breaking can benefit from the added support of a dental crown.
Root Canal Treatment: After a root canal procedure, a dental crown is often placed to protect and strengthen the treated tooth.
Traditional Dental Crowns vs. Same-Day Dental Crowns
Traditional dental crowns have been used for decades to restore damaged teeth effectively. However, the process typically involves multiple dental appointments, which can be time-consuming and inconvenient for patients.
With same-day dental crowns, the game has changed. This revolutionary technology allows us to design, create, and place a custom dental crown in just one appointment, eliminating the need for temporary crowns and multiple visits.
How Same-Day Dental Crowns Work
At Pure Dental Health, we utilize advanced CAD/CAM (computer-aided design/computer-aided manufacturing) technology to craft same-day dental crowns with precision and efficiency. Here's how the process works:
Digital Impressions: We use a 3D intraoral scanner to capture detailed images of your teeth, creating a digital impression without the need for traditional messy dental molds.
Custom Design: Our skilled dentists use specialized software to design a custom crown that fits perfectly with your natural teeth and complements your smile.
In-House Milling: Once the design is complete, our in-house milling machine crafts the crown from a high-quality ceramic block, ensuring the crown's durability and aesthetics.
Immediate Placement: After milling, the crown is ready for placement. Our dental team ensures that the crown fits precisely and matches your natural tooth color, delivering an incredibly natural-looking result.
No Temporary Crowns: Since same-day crowns are created and placed in one appointment, you won't need to wear temporary crowns, saving you time and potential discomfort.
Benefits of Same-Day Dental Crowns
At Pure Dental Health, we love giving patients the profound benefits of our same-day crown technology:
Time-Saving: One of the most significant advantages of same-day dental crowns is the time saved. With traditional crowns, the process could span over several weeks, but with same-day crowns, you leave our office with a restored smile in just one visit.
Convenience: Fewer appointments mean less disruption to your busy schedule. With same-day crowns, you can quickly restore your damaged tooth without having to take multiple days off work or rearrange your plans.
Exceptional Fit and Aesthetics: The CAD/CAM technology used in same-day crowns ensures a precise fit and natural-looking appearance, enhancing both functionality and aesthetics.
Durable and Long-Lasting: Same-day crowns are crafted from high-quality materials, making them durable and capable of withstanding daily wear and tear.
Experience the Efficiency of Same-Day Dental Crowns at Pure Dental Health
At Pure Dental Health in Atlanta, we are dedicated to providing our patients with the latest advancements in dental technology to ensure optimal oral health and patient satisfaction. Our same-day dental crowns exemplify our commitment to efficiency, convenience, and delivering exceptional dental care.
If you require a dental crown to restore a damaged tooth, consider the advantages of same-day dental crowns at Pure Dental Health. Contact our friendly team today to schedule your consultation and experience the transformation of your smile, all in a single visit!
Posted on behalf of Pure Dental Health