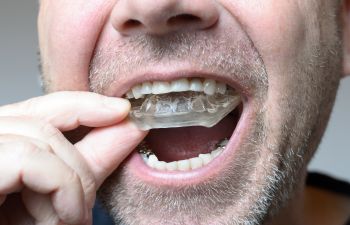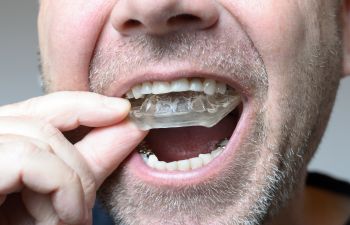 Do you catch yourself clenching your teeth during the day? Have others told you that your grind your teeth while you sleep? This is called bruxism, and it may be the reason you are suffering from daily headaches or migraines.
Clenching and grinding puts hundreds of pounds of pressure on tooth surfaces. Typically, chewing exerts 20 to 40 pounds on the teeth, but the pressure from grinding can be 250 pounds, according to an article in the Chicago Tribune. This excessive pressure doesn't occur without consequences. Not only can bruxism lead to worn out teeth and TMJ discomfort, but the tension is also a leading cause for headaches. Your teeth are connected to your jaw, and your jaw is connected to your skull. If your clenching and grinding occurs over a significant period of time (such as all night), the pressure and pain can spread beyond your teeth and jaw joint to include your ears, neck and head.
Causes of Nocturnal Bruxism
While many people clench their teeth and jaw during the day, such as while they are stressed, concentrating or exercising, most bruxism sufferers perform this involuntary habit while they sleep. This is referred to as nocturnal bruxism, which can occur as a result of one of the following factors:
Stress and anxiety
Misaligned teeth
Sleep disorder
Medication side effect
Excessive alcohol and drug use
The NTI Night Guard May Relieve Your Daily Headaches
The presence of tension headaches and daily migraines can be a real threat to your quality of life. If you've tried other headache remedies and failed to find relief, it may be time to look to your dentist for answers. At Pure Dental Health, we are proud to offer one of the most proven systems for bruxism-related headaches.
Our practice uses an FDA approved therapy called the NTI night guard system. The NTI night guard is much smaller than a typical night guard, which reduces the common concern that it will be uncomfortable to wear through the night. In addition to migraines, the NTI guard also helps with TMJ disorders, muscle pain, ear aches and muscle spasms.
To learn more about addressing your headaches with the NTI night guard system, call Pure Dental Health today!
Posted on behalf of Pure Dental Health