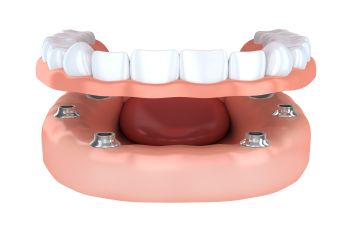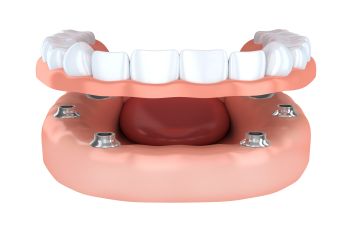 According to the American Academy of Implant Dentistry, over 35 million Americans are missing all of their upper or lower teeth. This calls for a full arch replacement of teeth. In the past, a traditional denture was the only option. However, removable dentures have their own set of drawbacks, as they have to be adjusted or relined frequently and taken out for nightly cleaning. Traditional dentures also rest on the gum line and are secured by adhesive creams, which limits the amount of stability and confidence that patients can achieve with their replacement teeth.
Another way to restore a full set of upper or lower teeth is with dental implants. It is possible to replace an entire arch with individual dental implants. However, this can be time-consuming, costly and require bone grafting to build up the jaw enough to support each dental implant. Fortunately, modern restorative dentistry has given patients a better and highly preferred solution that combines modern dentures and dental implants.
The All-on-4 Advantage
The All-on-4 implant system is a revolutionary option that allows patients to attain a new, secure smile in a single day. It offers all the benefits of implant-dentures, yet without the time and bone grafting required for traditional methods. Using just four strategically placed dental implants, we can anchor a full upper or lower denture in place. All-on-4 offers the following highlighted advantages:
No Bone Grafting – All-on-4 implants are smaller in design and placed at an angle in the jaw, which means that they can achieve maximum support from less jawbone height. Patients are pleased to know they can skip the time, recovery and cost of bone grafting when choosing All-on-4.
Less Recovery Time – This innovative treatment concept involves less implants and less-invasive surgical techniques, which means less time in the dental chair and less recovery time!
Instant New Smile – In the same appointment that you get your implants, you'll also receive a full set of prosthetic teeth anchored on top. This will be your temporary restoration until your body has fully acclimated to the implants. Having a temporary denture ensures you never have to be without a full set of teeth until the permanent denture is ready.
Schedule Your Consult
The first step is a consult with one of our implant dentistry experts at Pure Dental Health. We can determine your candidacy and take advanced images of your mouth to get the process started. If you are missing an entire arch of teeth, we know that time is of the essence in terms of rebuilding your smile. Consider All-on-4 Implants today!
Posted on behalf of Pure Dental Health