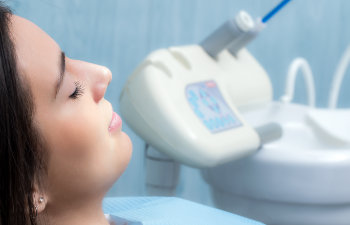 When it comes to helping you feel more comfortable at the dentist, sedation dentistry can be a game-changer. At Pure Dental Health, we proudly offer multiple options in sedation dentistry to ensure each patient feels a level of relaxation they need and deserve in the dental chair.
Types of Sedation Dentistry Offered at Pure Dental Health
It is not difficult to find a dentist who will offer some type of sedation dentistry. However, it is rare for a dentist to offer all forms of sedation dentistry. At Pure Dental Health, we are qualified and equipped to offer local anesthesia and laughing gas, as well as IV sedation and general anesthesia. Each type of sedation dentistry offers varying levels of sedation and side effects. Here's some insight on the types of sedation dentistry offered at our Marietta dental clinic:
Nitrous Oxide (Laughing Gas)
Nitrous oxide is a mild sedative gas that is inhaled through a mask. It is used to reduce anxiety and help patients feel more relaxed during dental procedures. Nitrous oxide is fast-acting, and its effects wear off quickly, so patients can usually drive themselves home after the procedure.
Oral Sedation
Oral sedation involves taking a pill or liquid medication to help patients feel more relaxed during the procedure. The medication can range from mild to moderate sedation, depending on the dosage. Oral sedation is often used for patients who have moderate anxiety and may require someone to drive them to and from the appointment.
IV Sedation
Intravenous (IV) sedation involves administering sedative medication directly into the patient's bloodstream through an IV. IV sedation is a deeper level of sedation than oral sedation and is typically reserved for more complex procedures. Patients who receive IV sedation are monitored closely and require someone to drive them home after the procedure.
General Anesthesia
General anesthesia is the deepest level of sedation and involves putting the patient into a controlled state of unconsciousness. General anesthesia is typically only used for very complex procedures or for patients with severe anxiety who cannot be managed with other sedation techniques. Patients who receive general anesthesia require someone to drive them home and may experience more side effects, such as nausea or dizziness.
At Pure Dental Health, you can trust that your sedation dentistry will be administered by a qualified and experienced dental professional who has been trained in the proper use of sedation techniques. Before undergoing any type of sedation dentistry, patients should discuss their medical history and any medications they are taking with us to ensure that sedation is safe.
Reasons to Consider Sedation Dentistry
Not sure if sedation dentistry is right for you? There are several reasons why a patient may request or require sedation dentistry, including the following:
Dental Anxiety or Phobia: Many people experience anxiety or fear when visiting the dentist. Sedation dentistry can help patients feel more relaxed and comfortable during dental procedures, which can make it easier for them to receive the care they need.
Gag Reflex: Some patients have a strong gag reflex, which can make it difficult for the dentist to perform certain procedures. Sedation can help relax the muscles and reduce the gag reflex, making it easier for the dentist to work.
Sensitive Teeth or Gums: Patients with sensitive teeth or gums may experience discomfort during dental procedures. Sedation can help reduce the sensation of pain and discomfort, making the procedure more tolerable.
Complex Dental Procedures: Some dental procedures, such as wisdom teeth extraction or dental implant placement, can be lengthy and uncomfortable. Sedation can help patients remain calm and comfortable during these more complex procedures.
Physical Limitations: Patients with physical limitations, such as neck or back pain, may find it difficult to remain in a comfortable position during dental procedures. Sedation can help these patients relax and remain comfortable throughout the procedure.
Time Constraints: Patients with busy schedules may not have the time to undergo multiple dental procedures. Sedation can help patients undergo multiple procedures in a single visit, reducing the number of appointments required.
Regardless of why you need sedation dentistry, our team is happy to offer it in a safe, clean and friendly atmosphere. Making your dental visits more comfortable and enjoyable is a top priority at Pure Dental Health. Call today to learn more about our sedation dentistry techniques in Marietta.
Posted on behalf of Pure Dental Health