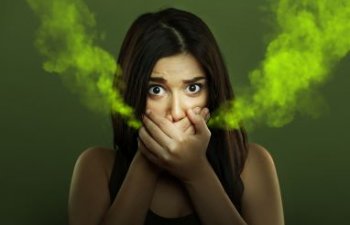 Are you constantly popping a mint or chewing gum in your mouth to cover up bad breath? That's exactly what you are doing, "covering it up." While it is normal to have a bad breath odor after eating garlic or onions, chronic bad breath needs to be addressed. Halitosis, the medical term for bad breath, is something your dentist can likely treat. Not only can halitosis be a threat to your social life and self-esteem, it could be a warning sign that something needs attention within your oral health.
Bad breath is often caused when there is an excessive amount of oral bacteria. Bacteria feeds on plague and food particles left in the mouth, and it releases foul-smelling sulfur compounds in the process. Therefore, the first weapon against bad breath is a cleaner mouth, which starts with proper brushing and flossing habits. If you are skipping your tongue when you brush, you are leaving millions of bacteria in your mouth. Bacteria love the moist and dark grooves that are found on the surface of your tongue!
If you feel like you are on top of your oral hygiene game and still dealing with chronic bad breath, it's time to dig deeper in your investigation. There are several culprits to bad breath, and determining the cause of your halitosis is the key to fresh breath.
Could your foul breath odor be triggered by the following?
Poor dental hygiene
Dry mouth
Sinus infection
Tooth decay
Gum disease
With such an expansive range of culprits, you'll need a dentist's help in determining why you can't achieve fresh breath. While dry mouth may be a side effect of a medication you are taking, it could also be contributing to your bad breath and there are products a dentist can recommend to boost your saliva production. If your bad breath is caused from gum disease or a cavity, it won't get better on its own. In fact, the health of your smile is at stake if you don't receive proper treatment.
Before you resort to breath spray or stuff extra peppermints in your pockets, consider discussing your bad breath problem with a dental professional. At Pure Dental Health, we proudly offer halitosis treatment to patients of all ages – and yes, kids can have chronic bad breath too! Let us restore your smile confidence by eliminating your bad breath with a proven, long-term treatment plan. Call now to schedule your appointment in Buckhead.
Posted on behalf of Pure Dental Health