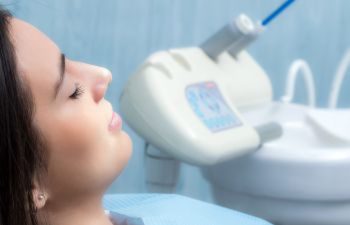 It is estimated that at least 12% of all Americans avoid visiting the dentist each year due to fear and anxiety. Many people are afraid of the discomfort or pain that they expect to experience, so they choose not to go at all. While no one wants to be put in an uncomfortable situation, avoiding the dentist and not receiving the dental care that you need can end up costing you a lot more pain, time and money in the long run. At Pure Dental Health, we are proud to offer a full menu of options in sedation dentistry, including IV sedation dentistry for patients whose fear or anxiety would otherwise keep them away.
What is IV Sedation Dentistry?
IV sedation dentistry uses medication that is administered intravenously (through the veins) in order to help people fully relax at the dentist's office. IV sedation is the best choice for those with fear and anxiety because the medication goes to work very quickly and can be easily adjusted by the dentist throughout the appointment to provide the best level of comfort without administering too much medication. Patients will be able to lie back in the dental chair with their eyes closed, yet they will not be asleep. They will be able to reach complete relaxation, but they can still respond to verbal cues from the dentist. Only an elite group of dentists in the country are trained and certified to administer IV sedation.
Additional Perks of Choosing Sedation Dentistry
One of the greatest benefits of IV sedation dentistry, aside from getting anxious patients to visit the dentist, is that dentists are able to provide high-quality dental procedures in much less time. Because patients' anxiety will no longer inhibit their steady breathing or how wide they open their mouths, it can help them avoid triggers like a sensitive gag reflex and other setbacks. Using IV sedation, dentists and hygienists are able to accomplish a full cleaning along with any more invasive procedures that are necessary to reestablish the health of the mouth.
If you live in the greater Atlanta area and are looking for a dental practice that will help you relax, please contact Pure Dental Health. Comfort is one of our highest priorities! Please do not let your dental fear or anxiety keep you from receiving necessary oral health treatments. We will do our part to create a stress-free and anxiety-free visit.
Posted on behalf of Pure Dental Health