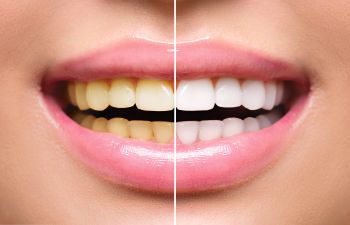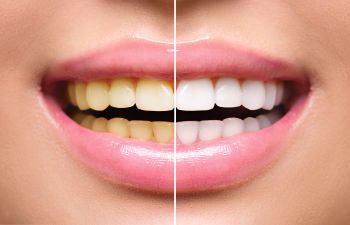 Has your smile become dull with age? Does your coffee-habit or love of red wine sabotage the brilliance of your teeth? You are not alone. Many people struggle to keep their smile bright and white. Lifestyle habits, dark-colored foods and drinks as well as the natural aging process can cause teeth to discolor or yellow over time. That's why teeth whitening is the most sought-after cosmetic dentistry procedure. Though teeth whitening is only temporary, it is fast, painless and affordable!
When it comes to teeth whitening, however, you've got options. There are countless over-the-counter products (gels, kits, strips) that you can buy to brighten your smile on your own. While these products may seem cheaper and easier, you should know the subpar return you're likely to get on your investment if you decide to tackle teeth whitening without your dentist.
A cosmetic dentist can offer professional teeth whitening. While the upfront cost difference may steer you away at first, you'll be glad to know the significant advantages you will gain by choosing your dentist for teeth whitening instead of an over-the-counter product.
More Effective – Teeth whitening from your dentist includes professional-grade gels that are stronger than over-the-counter products and designed to be more effective at reversing stubborn extrinsic tooth stains.
Better Return on Investment – You may pay more for a professional teeth whitening. However, this should be carefully weighed against the fact that you won't need multiple treatments to attain ideal results. Many patients have to re-purchase whitening kits from the store in an attempt to reach their smile goals, and this can add up in expense.
Less Irritation/Sensitivity – Rather than a "one-size-fits-all" approach to teeth whitening, a professional treatment by your dentist will consider the unique shape, size and needs of your smile. Most importantly, the entire process is overseen by a dental professional. Therefore, there is much less chance for whitening gel to leak out on your gums and cause irritation. Patients also report little to no sensitivity, which can be common with prolonged use of over-the-counter whitening products.
Faster Results With Convenience – Last but not least, you can attain a confident white smile in much less time when you visit your dentist. At Pure Dental Health, we offer a top ranked treatment that combines the use of professional-strength products with the comfort of at-home treatment using self-forming whitening trays. You'll see results more quickly with our professional HD gel than you would a store-bought toothpaste or whitening strip.
What is FREE Teeth Whitening for Life?
Want your teeth whitening to be even more affordable – or even free? To keep our patients smiling bright, we proudly offer FREE whitening gel along with your regular cleanings. We will continue to give you free whitening gel for LIFE as long as you stay consistent with your prescribed teeth cleaning schedule. Call Pure Dental Health today?
Posted on behalf of Pure Dental Health