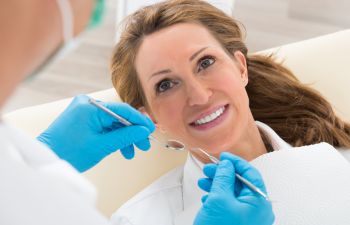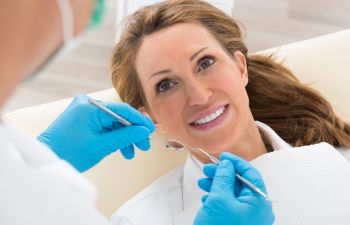 If you know anything about dental care, you are probably aware that plaque is the enemy to a healthy smile. Plaque is a sticky film that continually forms on your teeth due to the combination of bacteria and sugars that exist in your mouth after eating. While plaque may be clear (or slightly yellow), this "fuzzy" coating on your teeth can wreak havoc on your oral health.
When Plaque Remains
The issue with plaque is that it will harden and turn into tartar if it is left on your teeth and gums for too long. Daily brushing and flossing can often keep plaque away, but if you slack on your oral hygiene routine or skip your professional dental cleanings, this sticky substance becomes hard tartar that can't be removed with your toothbrush at home.
The Dangers of Plaque Buildup
When plaque isn't properly cleaned from your pearly whites, it builds up and triggers two main dental health issues: decay and gum disease.
Tooth Decay: Did you know that there is a bacteria in plaque that produces acids? Unfortunately, these acids can eat away or weaken your tooth enamel. If the problem persists, the acids can create tiny holes called cavities (or decay). While a dental filling can repair a small cavity, if plaque and tartar continue to build up on the affected tooth without treatment, the damage can extend to the tooth's center. At this point, the livelihood of the tooth is at stake and a root canal is often needed to save the tooth.
Gum Disease: Plaque buildup can be equally detrimental to your gums. In fact, plaque is the leading culprit for periodontal disease. When plaque hardens along the gum line, it irritates the soft tissues and triggers an immune response that swells and reddens the gums. If left untreated, the gums may become infected and pull away from the tooth roots. In advanced stages, gum disease can cause tooth loss and contribute to serious overall health issues such as stroke, heart disease and premature birth.
Fight Back on Plaque
The best way to control plaque buildup is with your oral hygiene routine. You should brush twice a day and floss every day. Unfortunately, this isn't always enough to prevent cavities and gum disease. Visiting your dentist for a professional dental cleaning can be the only way to remove plaque once it has hardened on your gums and teeth. To schedule your routine dental appointment and prevent plaque from harming your smile, call Pure Dental Health today. We promise a safe, comfortable and attentive visit.
Posted on behalf of Pure Dental Health