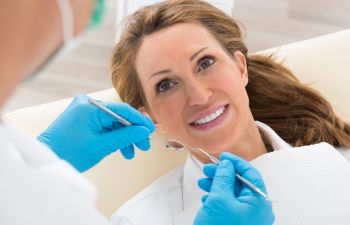 Losing a tooth, or multiple teeth, can be devastating. Each tooth in your mouth serves an important purpose in terms of your smile aesthetics, chewing function and jaw density. Thanks to the advancements in restorative dentistry, there are excellent solutions to replace missing teeth, including dental implants, bridges, dentures and partials. Your natural teeth, however, are always best.
There are times when losing a tooth is beyond your control, yet there are also situations when it can be prevented. Here are the most common reasons why adults lose their teeth or need to have them extracted:
Advanced Gum Disease
The leading cause of tooth loss is actually a condition of your gums. Your gums are the foundation of your smile, as they provide stability to hold your teeth in place. When plaque and bacteria are allowed to accumulate below the gum line, gum disease can set in. While inflamed or red gums may be early signs, more advanced symptoms of periodontal disease includes the gums pulling away from the tooth root and destruction of the surrounding bones. If gum disease is not treated, tooth loss will often be a devastating consequence.
Severe Tooth Decay
Tooth decay or a dental cavity is a common occurrence. When the cavity is small enough a dental filling can repair the tooth. If the decay has reached the tooth center (pulp), root canal therapy may be able to save the tooth. However, if left alone, a cavity can cause so much damage that the tooth needs to be removed entirely to prevent worsening infection and damage to the neighboring teeth.
Unexpected Trauma
A tooth injury or mouth trauma is an event we can't always control. A direct or blunt trauma to the tooth could cause it to break off at or below the gum line. In such cases, it may not be able to be restored. This makes it vitally important that you or your child wear a protective mouthguard during sports. Your dentist can provide the most effective and comfortable types of custom mouthguards.
Regardless of whether or not your tooth loss was due to an accidental injury or your poor oral hygiene habits, the best step forward is to let your dentist replace your missing tooth. Even one missing tooth can compromise your self-esteem and your daily eating habits. Missing teeth can also cause adjacent teeth to shift out of position, and bone loss is likely to occur due to a lack of jaw stimulation.
Pure Dental Health proudly helps patients avoid the consequences of missing teeth by providing top-notch preventative care as well as teeth replacement services if tooth loss has already occurred. In fact, our restorative dentistry options are the best that modern dentistry has to offer. Contact us today to learn more about superior dental care in a comfortable environment.
Posted on behalf of Pure Dental Health