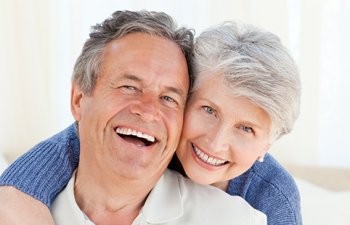 If you've lost one or multiple teeth, it is important that you seek a replacement option sooner rather than later. Missing teeth can cause adjacent teeth to shift out of position, and your jawbone may atrophy over time. Replacing missing teeth requires some forethought, as it is a big decision and notable investment for your future smile.
While past options were limited to dentures and bridges, patients now have the remarkable opportunity to replace missing teeth with dental implants. Dental implants are considered the next best thing to natural, healthy teeth. In fact, implant dentistry has revolutionized the way missing teeth are replaced.
What are dental implants?
Dental implants involve the surgical placement of a small titanium post. This biocompatible screw acts as an artificial tooth root, which is the hallmark advantage of dental implants. Over the next few months, the implant naturally fuses to the jawbone as it heals. Once it is securely anchored in place, a dental implant restoration is placed on top. Restorations can include a crown, bridge or implant supported dentures depending on your specific needs. By replacing both the tooth root and the tooth, patients can regain the most secure and confident solution in restorative dentistry. In addition, they are at a much lesser risk for jawbone loss, which occurs when the jawbone is not properly stimulated.
Before you shy away from dental implants due to expense, you'll want to factor in the plus side. When it comes to comparing dental implants to traditional dentures, the benefits far outweigh the cost. Patients gain the following advantages when choosing dental implants:
Improved Appearance – customized to look just like your natural teeth.
Better Stability – more confidence in chewing and speaking, no slippage.
Dietary Freedom – no need to stick to a soft foods diet or avoid foods you love.
No Extra Maintenance – care for them just like natural teeth, no messy denture creams or adhesives.
Less Risk for Premature Facial Aging – the jaw is properly stimulated so bone loss can be prevented.
Long-term Solution – dental implants are known to last more than 25 years with proper care, and they boost a 99% success rate.
Are you a candidate for dental implants? Call Pure Dental Health to find out. We offer a wide variety of tooth replacement solutions to ensure your smile is restored in a way that meets your unique needs and preferences.
Posted on behalf of Pure Dental Health