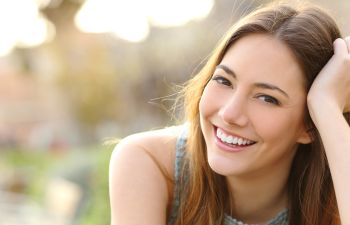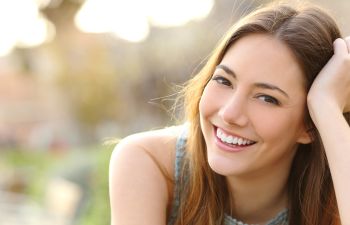 Porcelain veneers are one of the most innovative solutions in cosmetic dentistry. In fact, they have been used by countless celebrities and public figures as a way to create an attractive and perfectly balanced smile. Veneers involve shaving off a small portion of the tooth surface in order to bond a wafer-thin shell of porcelain. Since veneers are purely cosmetic, they are only placed on the teeth that are visible when you smile. In most cases, they involve just 2 to 3 painless visits to the dentist.
Porcelain veneers certainly aren't the only way to improve your smile appearance. So how do you know if veneers are the right solution for you? Ask yourself these questions:
Do you want to change the size or shape of a tooth without a dental crown?

If you have a healthy tooth but want to change the way it looks, a porcelain veneer can be an excellent option. In fact, it involves much less structural removal of your tooth to place a veneer than it does a crown. Veneers can be used to make the teeth look longer, bigger, wider or even just more symmetrical within your smile.

Do you have stubborn stains that won't respond to teeth whitening?

Sometimes stains are too stubborn to be removed with professional whitening agents. These are often intrinsic stains that develop beyond the surface of the tooth. Veneers may be the best and only way to attain a whiter smile if you have permanent or stubborn staining across your teeth. In fact, you can customize the exact shade you want with porcelain veneers, and they are resistant to future staining too!

Do you have cracks or chips on your front teeth?

As long as the health of the tooth is not compromised, minor tooth fractures can be erased cosmetically with porcelain veneers. Keep in mind that if the damage is too severe, the tooth may not be able to support a veneer, and a crown or filling may be warranted.

Do you want to avoid orthodontics?

There are many patients that can forgo wearing braces and choose veneers to instantly correct their crooked or gapped front teeth. Veneers don't actually move the teeth, so it is important to know whether your bite and alignment needs to be adjusted or if your misplaced teeth are just cosmetic in nature. Minor tooth gaps and crooked front teeth can make excellent candidates for porcelain veneers.
Ready to know for sure whether or not you can benefit from porcelain veneers? Call Pure Dental Health today. We love helping patients attain a beautiful and more confident smile!
Posted on behalf of Pure Dental Health