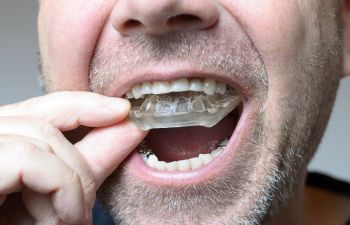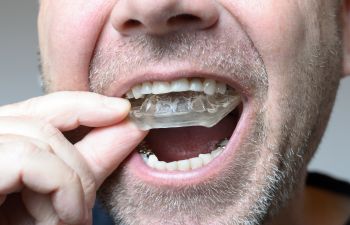 Your smile is more physically powerful than you realize. Not only are your teeth made of the hardest substance in your entire body, but the human bite can exert incredible strength. In fact, when all the jaw muscles work together to close the teeth, they can create a force as much as 55 pounds on the incisor teeth and 200 pounds on the molars! With so much power, we should have no problem chewing that piece of steak or grinding down that chunk of apple. Our teeth are ideal for chewing and helping us digest our food. However, when we unleash this pressure and force in other ways, such as teeth grinding, the outcome is not as favorable.
What is Bruxism?
Bruxism is the oral habit of grinding or clenching your teeth. For many, bruxism is a subconscious habit that occurs during nighttime sleep. Some patients tend to grind their teeth more during times of stress, and others may find that they are clenching due to a misaligned or uneven bite. Regardless of the reason for bruxism, this oral habit rarely comes without consequences when it is performed for hours during your sleep on a consistent basis.
The Setbacks of Teeth Grinding
One of the most common problems associated with nighttime teeth grinding is TMD, or temporomandibular joint disorder. With so much exerted force of grinding and clenching, the jaw muscles become overused, inflamed and irritated. This type of TMJ strain can cause soreness, clicking, stiffness and pain in the jaw during the day. You may also suffer from frequent tension headaches or ear pain due to your jaw disorder.
Another setback to your teeth grinding habit is teeth damage. While it is true that your tooth enamel is remarkably strong, it simply cannot handle the persistent abrasive pressure that comes from bruxism over time. It is not uncommon to notice that your teeth feel sore or even sensitive as the enamel layer wears thin. You may also be more susceptible to decay and infection, since your enamel is what protects your tooth from bacteria invasion. Lastly, your teeth grinding habit can sabotage the condition of your dental work, such as fillings, crowns and fixed bridges that you've invested in. Replacing these restorations can be quite costly.
Do You Need Help with Nighttime Bruxism?
Do you have the daytime signs of nighttime bruxism? Does your bed partner hear you grinding your teeth during your sleep? Let us save your smile from the negative impact of bruxism. At Pure Dental Health, we proudly offer the FDA approved NTI night guard system, which is proven to treat headaches and other issues associated with TMJ disorder and nighttime teeth grinding. Call our Dunwoody or Buckhead office today to learn more.
Posted on behalf of Pure Dental Health